News
Akrapovič BMW X5 M, X6 M Slip-On Line Exhaust System Now Available at Turn 14 Distribution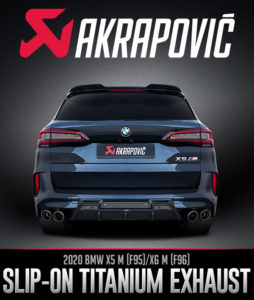 Akrapovič has released its BMW X5 M / X5 M Competition (F95) and BMW X6 M / X6 M Competition (F96) Slip-On Line (Titanium) exhaust system and carbon fiber accessories and are now available at Turn 14 Distribution, the sole U.S. automotive distributor for Akrapovič.
The Slip-On Line exhaust system is manufactured using high-grade lightweight titanium alloys finished with two sets of carbon fiber outer and titanium inner tailpipes. The system is crafted at the Akrapovič in-house foundry, including the valve housings and the collectors connecting the central muffler and tailpipes. Valves are fitted to each side of the muffler, tailoring the flow of exhaust gasses.
Akrapovič has conducted dyno tests with the Slip-On Line (Titanium) exhaust system, using a stock M Sport exhaust system equipped vehicle for comparison. A power gain of 11.9 hp at 2,400 rpm and a torque increase of 26.1 lb-ft at 2,400 rpm were achieved under controlled conditions, plus weight savings of 18.5 lbs., the company said.
To further complement the Slip-On Line tailpipes, Akrapovič has created an optional handmade carbon fiber diffuser, offered in a high-gloss or matte finish. Featuring an entirely new design compared to its OE counterpart, the Akrapovič diffuser outfits the vehicle's rear with a more aggressive and sporty character, the company said. The new design integrates the parking sensor mounts and allows for the use of the OE tow hook.