News
Akrapovič BMW X3, X4 Slip-On Race Line Exhaust & Link Pipes Now Available at Turn 14 Distribution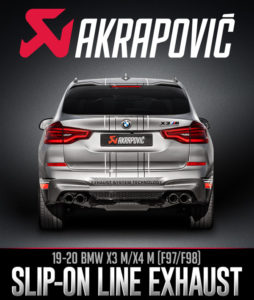 Akrapovič has released its 2020 BMW X3 M / X3 M Competition and X4 M / X4 M Competition Slip-On Race Line exhaust and Link Pipes. These products can be found at Turn 14 Distribution, the Sole U.S. automotive distributor for Akrapovič.
The Slip-On Race Line (Titanium) exhaust for the BMW X3 M and X4 M variants (Part Number S-BM/T/10H) is constructed from high-grade lightweight titanium with two pairs of titanium and carbon fiber tailpipes. It features exhaust valves with housings cast in the company's in-house foundry. For these applications, the Tail Pipe Set (Carbon) is required and must be ordered separately.
The sound is tuned to ideally suit the inline six-cylinder turbo engine, delivering an increase in the volume sensation, which provides exciting acoustic feedback when shifting through the gears, the company says. The optional Akrapovič Sound Kit can be added to upgrade the package. Additionally, a high-gloss carbon fiber rear diffuser is available for X4 M / Competition vehicles.
The Evolution Link Pipe Set (Part Number E-BM/T/8) is mandatory for BMW vehicles sold without a gasoline particulate filter in the U.S. The Slip-On Line Race Exhaust and Link Pipe Set combine to provide 15.1 more horsepower at 6,550 rpm for each vehicle model. Using the Slip-On Race Line exhaust system offers a weight reduction of 20.9 pounds. The addition of link pipes will require remapping the ECU. This product does not meet emission compliance requirements for street or highway use.