News
Akrapovič BMW M440i (G26) Evolution Line Titanium Exhaust Now Available at Turn 14 Distribution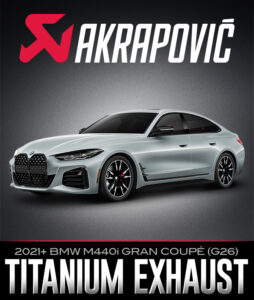 Akrapovič has released its BMW M440i (G26) Evolution Line (Titanium) exhaust system and it is now available at Turn 14 Distribution, the sole U.S. automotive distributor for Akrapovič.
The Akrapovič Evolution Line is a high-grade lightweight titanium system finished with handcrafted carbon-fiber tailpipes. The valves on each side are calculated to tailor the sound, and two acoustic reflectors are fitted on the tailpipes to guide the sound into the car's cabin, the company said. Because the Akrapovič Evolution Line (Titanium) exhaust system has two valves, one more than the stock configuration, a TNG controller is included in the product to activate the additional exhaust valve. Two tuned resonators are utilized to create a unique sound experience for drivers, the company said. These parts are cast in the Akrapovič in-house foundry.
The Evolution Line system weighs 47.8 lbs, which is 23% lighter than the stock exhaust, according to Akrapovič. Power gains of 11.8 hp at 5,600 rpm and torque increases of 12.6 lb-ft at 4,100 rpm were recorded while testing on the Akrapovič dyno against a BMW M440i with a stock exhaust.