News
Akrapovič BMW M2 CS Exhaust System Now Available at Turn 14 Distribution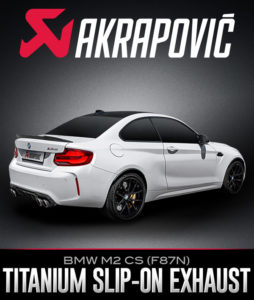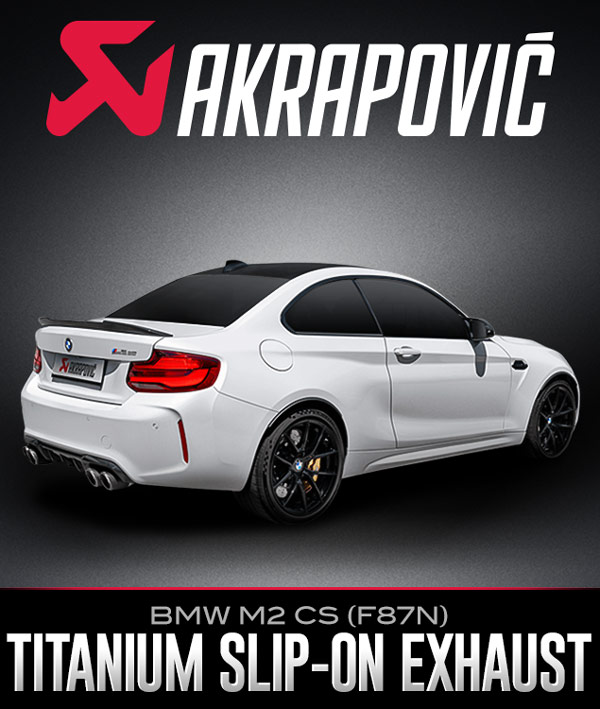 Akrapovič has released its BMW M2 CS (F87N) Slip-On Line (Titanium) exhaust system, which can now be found at Turn 14 Distribution, the sole U.S. automotive distributor for Akrapovič.
The Akrapovič BMW M2 CS Slip-On exhaust system is made from titanium in Akrapovič's factory and will reduce the weight of the exhaust while delivering extra power and lower backpressure, the company said. The sound has also been enhanced by Akrapovič's engineers, while carbon-fiber tailpipes give added dynamics to the rear of the M2 CS.
The Slip-On Line exhaust system offers weight savings at just 24.4 lbs., over 22 lbs. lighter than the stock system. Power gains of 4.8 horsepower at 5,100 rpm, with a torque gain of 4.4 lb.-ft at 5,150 rpm, were measured on Akrapovič's inhouse dyno. The stock exhaust has to be cut for the installation of the Slip-On system. Carbon fiber mirror caps and a rear diffuser are available in either a matte or high gloss finish.