News
Akrapovič Audi RS 6, RS 7 Evolution Line Titanium Exhaust Now Available at Turn 14 Distribution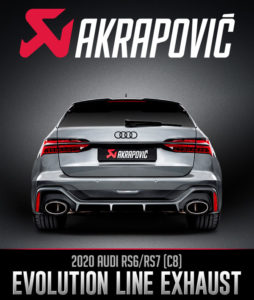 Akrapovič has released its Audi RS 6 Avant and RS 7 Sportback (C8) Evolution Line (Titanium) exhaust and Link Pipes and can now be found at Turn 14 Distribution, the sole U.S. automotive distributor for Akrapovič.
The Evolution Line exhaust system is manufactured using high-grade lightweight titanium and features a specially designed layout with one central and two side mufflers. The collector is made from titanium and leads from larger-diameter stainless steel link pipes and custom-made flex tubes, which are fully insulated where they attach to the downpipes. A valve on each side muffler controls the flow of gases and aids the fantastic sound produced by the system. Each valve has a housing cast in Akrapovič's in-house foundry, as does the complex active X-connection, which also features a valve for controlling the exhaust pulses from both sides of the engine. The system is finished with unique carbon fiber or titanium tailpipes with an all-new design and the handmade carbon fiber outer sleeve aligns with the sandblasted and coated titanium inner.
Akrapovič has conducted tests with the Evolution Line (Titanium) exhaust system, using an Audi RS 6 Avant (C8) with the stock Audi Sport exhaust system for comparison. A power gain of 15.7 hp at 6,150 rpm and a torque increase of 13.2 lb-ft at 6,150 rpm were achieved under controlled conditions. This exhaust system provides weight savings of more than 30 percent when compared to the stock system, the company says. An optional downpipe/link pipe set is available that will require ECU remapping. A handmade carbon fiber diffuser is available in matte or glossy finish to complete the appearance. The Akrapovič Sound Kit is also available.