News
Akrapovič Alfa Romeo Stelvio Quadrifoglio Slip-On Line Titanium Exhaust Now Available at Turn 14 Distribution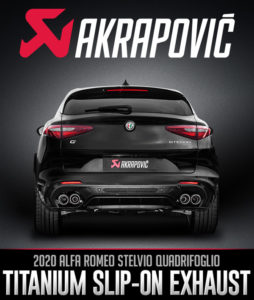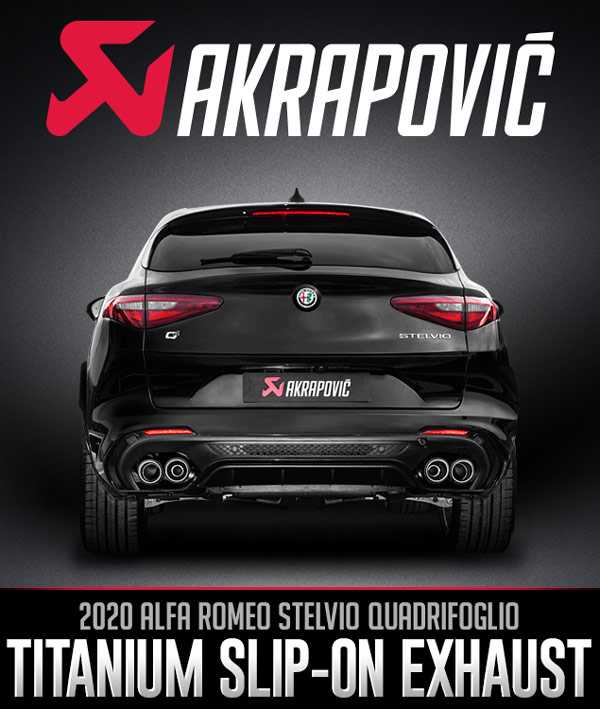 The Akrapovič Alfa Romeo Stelvio Quadrifoglio Slip-On Line (Titanium) exhaust is now available at Turn 14 Distribution, the sole U.S. automotive distributor for Akrapovič, the company announced.
This exhaust is constructed from high-grade lightweight titanium and finished with handcrafted tailpipes featuring a carbon-fiber outside and titanium inside. The Slip-On Line (Titanium) has been designed to fit directly onto the Stelvio Quadrifoglio's stock link-pipe. The valve housing and an X-connection element in the muffler are cast in Akrapovič's in-house foundry and are formed to allow exhaust gases to mix at a precisely defined ratio.
Equipping the system yields an increase of 6 hp at 6500 rpm and 5.6 lb-ft of torque at 3100 rpm, with a 32.1% savings in exhaust system weight. Installation is plug-and-play with no need to remap the ECU and is designed to meet ECE type approval.
An optional Akrapovič Sound Kit is available, enabling owners of selected Akrapovič car exhausts to control the system's sound from the driver's seat. The Sound Kit is compatible with vehicles equipped with the Alfa Romeo first fit or accessory Akrapovič exhaust, but ECE type approval is no longer valid.