News
AirSept Diagnostic Tool Wins MOTOR Top 20 Award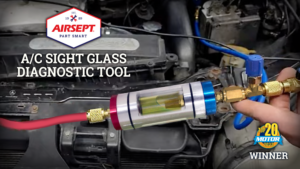 The AirSept A/C Sight Glass Diagnostic Tool was selected for a MOTOR Top 20 Award for 2023, the company announced.
In the MOTOR Top 20 Award competition, products are judged through an online voting system to determine the final twenty for recognition, competition officials said. Winners will be recognized during the 2023 AAPEX Show in Las Vegas later this year.
The A/C Sight Glass Diagnostic tool allows technicians to view the A/C system in real time and provides a visual alert to potential contamination, oil or dye related issues, AirSept said. Refrigerant is isolated in the Sight Glass Tool for inspection and customer presentation and allows the user to see if burned or discolored oil is present or if too little or too much dye or oil is present. The internal filter also captures the debris to better identify the material and any potential failure issues, the company said, and can also determine whether the compressor is functioning as designed.
"We are honored that our A/C Diagnostic Sight Tool was recognized for its ability to substantially improve the ability to perform A/C service for automotive repair providers," said Aaron Becker, AirSept president. "We strive to develop products that save time and money. We are very proud of our repertoire of quality repair products that have been recognized by the MOTOR Top 20 Award competition over the years and we hope that if you have not had a chance to see this in person that you will stop by our booth at the 2023 SEMA Show for a demonstration."