News
Air Lift Co. Debuts Ram 1500 Heavy-Duty Spring Inserts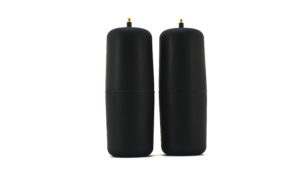 In 1950, aftermarket air suspension specialist Air Lift Co. patented their debut product: The Air Lift 1000 coil spring insert. Now, nearly 70 years later, Air Lift has created an upgraded version of the kit.
The Air Lift 1000 HD load support kit is Air Lift's heaviest-duty coil spring insert, providing up to 2,500 pounds of load-leveling capabilities. Specifically engineered for 2009-2018 coil-sprung RAM 1500 pickups, these custom-molded polyurethane air springs are inserted into the rear coil springs, no vehicle modifications required, according to the company.
By working with the vehicle's existing suspension, Air Lift 1000 HD does away with many of the problems frequently faced with towing or hauling heavy loads, including squat, poor headlight aim, unresponsive steering, trailer sway, body roll, and bottoming out. By properly leveling the load, squat is eliminated, braking is improved, and the vehicle is returned to a level and stable state, allowing users to tow and haul with safety and comfort, according to Air Lift.
The enhanced materials used to create the Air Lift 1000 HD system allow the air springs to be adjusted anywhere from 5 to 75 PSI, making them completely customizable depending on the weight of the load. Whether the truck is loaded or unloaded, the volume of the air springs will improve the overall ride quality.
Installation requires no drilling and can be completed with common mechanics tools. Also included is an easy-to-follow, fully illustrated instruction manual for an easy installation, according to Air Lift. For convenient inflation and deflation of the air springs, Air Lift offers wired, wireless and automatic on-board air compressor systems.
For more information, visit airliftcompany.com.