News
Air Lift is Among the 'Best & Brightest' Companies for Employees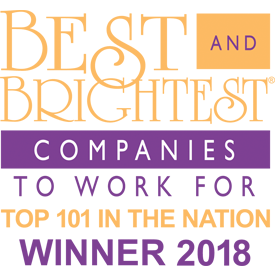 Air suspension specialist Air Lift Co. has been named one of the 101 Best and Brightest Companies to Work For in 2018.
An independent research firm collected nominations from 2,400 companies across the U.S. and, out of those nominations, named the top 512 companies as national winners. The 101 highest-scoring companies were also identified, Air Lift Co. being among them.
The award recognizes companies that excel at employee relations, use innovation to motivate employees and implement creative compensation programs.
The winning companies will receive additional recognition as a national winner at the National Best and Brightest Summit – Illuminate 2019 awards symposium and gala in September at the Renaissance Chicago Downtown Hotel in Chicago.
"Being named one of the 101 Best and Brightest Companies to Work For in the Nation for 2018 is a huge honor for us at Air Lift," said Mary Cook, director of human Resources at Air Lift Co., who championed the effort to earn this award. "Winning this award as we kick off our 70th anniversary year really inspires us as a company to remain committed to our vision and guiding principles as we continue to grow. Air Lift is truly a great place to work and we can't thank the wonderful members of the Air Lift family enough for everything they contribute to our success."
Air Lift was named one of West Michigan's Best and Brightest Companies to Work For in 2017 and 2018. This is the company's first time being recognized as a national winner.
Air Lift, founded in 1949, is a third-generation, family-owned automotive aftermarket suspension company based in Lansing, Michigan.
For more info, call the company at 800-248-0892 visit airliftcompany.com.