News
Air Design USA Releases Street Series for Silverado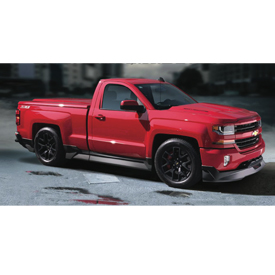 Air Design USA recently released its new Street Series body kit for the 2016-'18 Chevrolet Silverado, which features aggressive street styling with an OEM-quality fit and a satin-black finish that can be painted to match.
Like every other product wearing the company logo, it was designed via a sophisticated digital workflow and precision engineering for a finished product of the upmost quality, according to Air Design USA. The Street Series is available as a full body kit or as individual components, including front spoiler, rear and side skirts, tailgate spoiler, rear applique, hood scoop, fender vents, and floor liners. Also appealing to retailers, restylers, and DIYers alike is an installation time under two hours.
"The street truck is coming back. Truck suspensions have been going up for years. Now it's time to go back down," said Billy Longfellow, vice president of design and engineering at Air Design USA. "You gotta take chances in this business in order to elevate to the next level."
As for a booming street truck revolution, Longfellow said: "Build and they will come."
The company's new USA division, operating independently but in collaboration with its parent company in Mexico, is exclusively distributing its product line through Keystone Automotive Operations Inc.
Visit Air Design USA on Facebook, Instagram, and You Tube for more information.