News
Aeromotive Hires New Sales Manager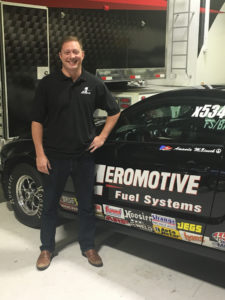 Aeromotive has appointed Johnson Barrick as its new sales manager. Barrick's career experience includes event management for Belmont University, the Air Force Academy and the University of Texas, San Antonio. He most recently served as dual sales manager for Concord Hospitality in San Antonio working directly with the director of sales developing and implementing sales forecasts and proposals for both government and corporate markets.
"I attended my first drag race four years ago and fell in love with the sport," Barrick said. "While my professional background has been in collegiate and professional sports, after attending my first drag race, I was hooked. Aeromotive is at the very pinnacle of product development for the race market, and I am excited to take on this new challenge."
Barrick reports directly to Aeromotive Vice President Jeff Stacy.
"With a steady increase in sales and new product development, we felt that this was the ideal time to increase sales support for all markets," said Aeromotive President Steve Matusek. "The success of our company is determined by our success in operating as a unified team.
"Johnson has never met a stranger and brings strong leadership skills in sales, along with an outgoing personality and an innate ability to connect with both his customers and his team," Matusek added. "Johnson has a proven track record cultivating and maintaining relationships in personal and business to business environments. He will play a key role in creating, maintaining and enhancing our business to business relationships. We are looking forward to his social and interpersonal skills, which will enhance relationships with our dealers and distributors. We are excited to welcome him aboard, and feel confident that he will bring a fresh new perspective on how to manage relationships and grow sales."
Learn more by visiting Aeromotiveinc.com, emailing info@aeromotiveinc.com, or calling 913-647-7300.