News
Aeromotive Fuels 50th Anniversary Ford Mustang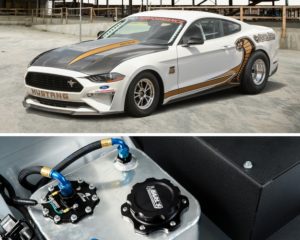 In celebration of the 50th anniversary of the Mustang Cobra Jet, Ford Performance has unveiled a new, limited-production drag racing vehicle.
The new Cobra Jet, powered by Aeromotive's Pro Series fuel pump, was introduced at the Woodward Dream Cruise in Detroit.
Ford described the new Cobra Jet as the fastest production Mustang on the drag strip, capable of quarter-mile times in the mid-eight-second range, trapping at 150 mph.
Aeromotive stated in a press release that, "While horsepower figures have not been released yet, prevailing thought is that it will be substantial considering it comes with a bored-out 5.2-liter version of Ford's Coyote V-8 and a 3.0-liter Whipple supercharger."
Additional features of the new Cobra Jet include a 9-inch solid rear axle, height-adjustable coil-overs, an NHRA-certified roll cage and FI-certified racing seats.
Only 68 of the commemorative vehicles will be built, with a choice of two color options: Race Red or Oxford White.
"As a company, we are intrinsically involved in the drag racing market and consistently use the track for serious product testing," said Steve Matusek, Aeromotive president. "To be chosen by Ford to provide a high-performance fuel system for the 50th Anniversary drag racing special Mustang Cobra Jet is a terrific honor and a testament to our reputation for quality."