News
AEM Adds New Features to DashDesign Software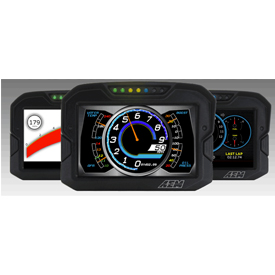 AEM's new DashDesign software (Version 1.03.03) is out now and includes new features and templates that enhance the capabilities of CD-5 Carbon (available March 2018) and CD-7 Digital Dashes. Major additions include a new five-gauge layout, a five-gauge layout specific to users who are using FAST XFI EFI systems, new fonts in the font library, and count up/count down timers.
AEM engineers performed other minor improvements and bug fixes to ensure DashDesign is easier than ever to use, according to the company. Please click here for a copy of the DashDesign 1.03.03 Release Update Notes, and click here to download the latest version of DashDesign software.
New Layouts
A new analog-style five-gauge layout has been added to the library. It has been configured for use with any CAN bus inputs and specifically for use with FAST XFI EFI systems. FAST XFI users will be able to enjoy a fully preconfigured layout right out of the box using all available channels from a FAST XFI with no configuration required, according to AEM.
AEM will continue to add new layout templates to DashDesign software, and preconfigured layouts for popular third party devices, which will always be available for free, according to the company. Whenever new layouts are added they will be available in the latest version of DashDesign and in AEM's forum.
New Fonts
AEM has added Oloron Bold Italic font and Serpentine font to the DashDesign's font library. Oloron is a clean, technical font that looks great in layouts because of its high legibility. Serpentine is a classic, yet contemporary looking font that is popular because of its bold, solid appearance.
"We will continue to add fonts as we update DashDesign, however users can also download their own fonts and add them to the library if DashDesign does not currently have a font that they want to use," AEM stated in a news release.
Timers
Count Up and Count Down timers have been added to DashDesign. The Count Up timer begins upon powering up the unit and can be cleared using the right toggle button on the dashes. The Count Down timer is very useful for fixed-time events. This timer can be added to a layout in the software and reset using the right toggle button on the dashes.
Third-Party Validation
The following non-AEM CAN devices have been validated in-house to work with the CD-5 Carbon and CD-7 Digital Dashes:
Autosport Labs AnalogX 4-Channel Analog Expansion Module
Performance Electronics (PE3) 8400, 8405 and SP000 ECUs
Powertrain Control Systems (PCS) 8-Channel Thermocouple Module