News
ADS Launches Job Board Website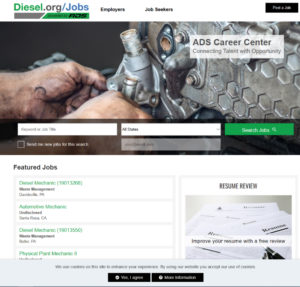 The Association of Diesel Specialists (ADS) has launched a brand-new website, www.diesel.org/jobs. It launched Monday, September 30 and aims to help ADS members attract and hire talent.
"Our members report that the shortage of diesel technicians and other related job functions is very real and a challenge for their business," stated Scott D. Parker, ADS Association manager. "Now, ADS members have access to a niche job site that will be full of job applicants. ADS is working with its nearly 100 technical training school members that will be adding their student and alumni resumes to the system for a large and trained applicant pool."
Diesel.org/jobs provides the most current job board tools while focusing exclusively in the diesel sector. Some of the job functions available on the site include Diesel Fuel Injection Pump Technician, Service Manager, Turbocharger Technician, Service Bay Technician, Service Bay Manager, Counter (Inside) Sales, Outside Sales, Clerical and Service Writer.
ADS members receive major savings to post job listings or to purchase access to resumes in the job bank. To obtain member pricing, members should use their same username and password they use for the diesel.org member access. Members who use this new service for just a few job searches will likely save more than the cost of their annual membership.
ADS provides free membership to nearly one hundred partner trade schools. Other qualified trade schools should contact ADS for a free membership.
The ADS partner technical training schools and others will be able to have their students and alumni post resumes at no cost. In fact, the ADS site provides a variety of tips and tricks for job seekers and job seekers can even set up a free session to ask a career expert questions about their job search.