News
Acura Reveals Heritage Liveries for 2019 ARX-05 Prototypes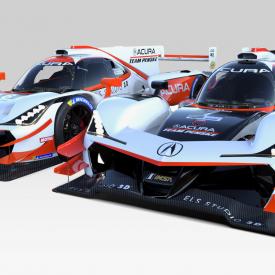 Acura Team Penske has unveiled its livery for this year's IMSA (International Motor Sports Association) WeatherTech SportsCar Championship. The livery features the distinctive white, orange and black colors utilized by Acura's three-time consecutive championship-winning program in IMSA prototype competition from 1991-'93.
According to Acura, this year's IMSA Acura Team Penske ARX-05 prototypes are an updated take on the iconic design first seen on the 1991-'93 Camel Lights champion Comptech Racing Spice Acura NSXs. The prototypes are the work of Acura executive creative director Dave Marek, who has been responsible for the liveries on numerous Acura racing machines.
The design also incorporates Acura Team Penske's new partnership with ELS STUDIO 3D, the audio system available in the 2019 Acura RDX. The race cars will make their on-track debut Jan. 26-27 at the Rolex 24 at Daytona International Speedway.
The driver lineup is set to include Dane Cameron, Juan Pablo Montoya and Simon Pagenaud in the No. 6 Acura Team Penske ARX-05; and Helio Castroneves, Ricky Taylor and Alexander Rossi in the No. 7 Acura ARX-05.
"This is a natural look for Acura prototypes and a salute to our heritage as a performance brand," said Marek. "The Acura brand was founded in 1986 and its debut in motorsports soon followed. Today, we're proud to unveil a livery that accurately reflects our long, successful history in North American racing-and look forward to adding new chapters to the story of Acura Precision Crafted Performance."
Racing History
Race-prepared Acura Integras won two consecutive IMSA International Sedan Manufacturers' Championships and three consecutive IMSA International Sedan Drivers' Championships from 1988-'90.
The Comptech Racing Acura-Spice GTP Lights race cars, powered by modified first-generation NSX engines, carried driver Parker Johnstone to three consecutive Drivers' Championships and Acura to three consecutive Manufacturers' Championships in the IMSA Camel GTP Lights series from 1991-'93. The Comptech Acura also captured the 12 Hours of Sebring in 1993.
In addition to Johnstone, the Comptech Acura driver lineup included Wayne Taylor, father of current Acura Team Penske driver Ricky Taylor, and Steve Cameron, uncle to ATP driver Dane Cameron.
According to the company, Acura will have a strong presence in the WeatherTech SportsCar Championship with Acura Team Penske's pair of ARX-05 prototypes and a brace of Acura NSX GT3 EVOs run by Meyer Shank Racing in the GT Daytona (GTD) class.