News
AAPEX 2021 General Sessions to Cover Industry Trends, New Technologies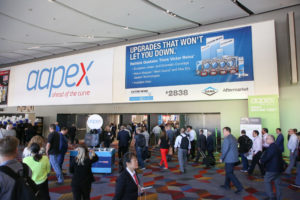 AAPEX 2021 has added three general sessions to keep attendees up-to-date with the latest trends and technologies and their impact on businesses in the automotive aftermarket, event organizers announced. Sessions are included in attendee registration and will take place daily from 11 a.m. – noon (PDT) during this year's in-person event, Nov. 2 through Nov. 4, at the Sands Expo and Caesars Forum Conference Center in Las Vegas.
On Nov. 2, Nathan Shipley, executive director, industry analyst for The NPD Group's Automotive Aftermarket division, will present "Aftermarket Outlook 2022." This session will cover trends in general retail and the aftermarket over the last six months. Attendees will learn what these trends mean in 2022 and beyond, and how, as a result of the pandemic, the automotive aftermarket has been a standout exception while many industries are feeling pressure, organizers said.
On Nov. 3, Todd Campau, associate director, Aftermarket Solutions at IHS Markit, will lead "5 Trends in 5 Minutes" and share an overview of key industry trends and new insights affecting the global aftermarket. From the ever-changing new vehicle market to the aging of the fleet, the automotive aftermarket continues to evolve. Attendees will learn how these new vehicle trends are impacting aftermarket repair opportunities faster than ever before.
On Nov. 4, Akshay Singh, partner, PwC Strategy&, and Carlos Thimann, director, PwC Strategy&, will present "The Impact of New Technologies on the Aftermarket Industry." This session will focus on a recent study that analyzed the impact of CASE technologies on the growth of the U.S. aftermarket through 2030. The study modeled $101B worth of aftermarket parts across a range of traditional aftermarket product groups and showed mild growth is expected across all categories, with heavier growth in parts related to CASE technologies.
To register for AAPEX, visit attendee registration on the AAPEX website, aapexshow.com.