News
AAM Group to Announce 2023 Keys to Ride Winner at SEMA Show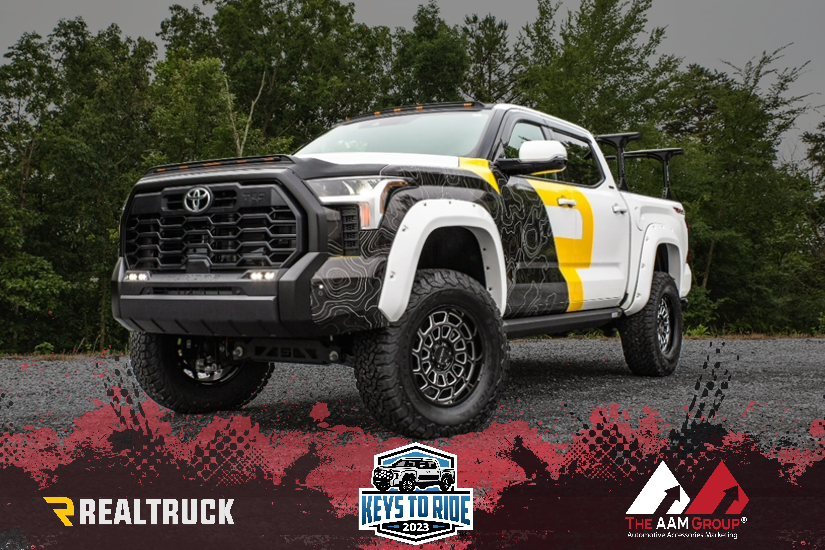 The AAM Group and RealTruck will announce the winner of the 2023 Keys to Ride Sweepstakes at the 2023 SEMA Show, the company announced.
The live reveal will see one of six resellers win a custom 2022 Toyota Tacoma customized with products from the RealTruck family of brands.
The finalists and their associated AAM Group warehouse distributors are listed below.
Finalists
Chris Blais of Suburban Toppers in Denver, Colo. (Midstates Distributing)
Dee Dix of All American Truck & SUV Accessories in Bradenton, Fla. (AllPro Distributing)
Blake Estes of Toppers Plus Truck Accessories in Wichita, Kan. (Tri-State Enterprises)
Jimmy Hamrick of Truck Equipment Sales — LINE-X of Mobile in Mobile, Ala. (RPT Distributing)
Todd Hansen of Truck Stuff Inc. — Wichita in Wichita, Kan. (Tri-State Enterprises)
Kenny Kupp of Kenny's Auto Accessories in Tulsa, Okla. (Tri-State Enterprises)
The live giveaway, which will be held at the RealTruck booth (#50027) in the West Hall of the Las Vegas Convention Center on Oct. 31 at 1 p.m. PT, will see each finalists choose a key fob, one of which starts the truck. The finalist to draw the working key fob will win the truck. Each finalist will also receive a $1,000 gift card and two nights of hotel accommodations for the final drawing, the AAM Group said.
To qualify for the giveaway, resellers earned entries by making qualifying purchases of select RealTruck brands from their Total Truck Centers or Performance Corner warehouse distributor from Jan. 1 to Aug. 31, the company said. The six finalists were randomly drawn from among all eligible entrants.