News
AAM Group Recognizes Suppliers, Contributors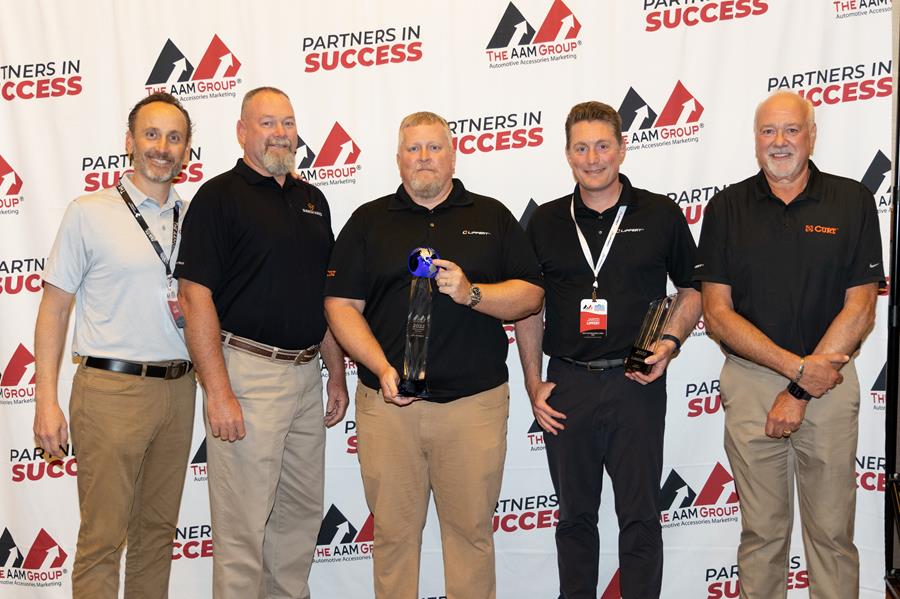 The AAM Group presented awards to nine supplier partners at its recent annual Membership Meeting, held May 10–12 in Frisco, Texas, the company announced.
Highlighted by the Partnership and Group Impact Awards, the categories also included Data Quality, Fastest Growing, Manpower Excellence, Marketing Support, Product Innovation, Profit Generator and Shipping Excellence.
The AAM Group provided the following descriptions for each of its award winners.
Supplier Winners
Lippert accepted the Partnership Award, which honors the supplier that demonstrated outstanding overall performance across all the award categories. AAM brands under the Lippert umbrella include ARIES, CURT, LUVERNE, Ranch Hand and UWS.
The Group Impact Award went to Westin Automotive for its contributions to the success and growth of AAM headquarters, members and resellers.
Presented with the Data Quality Award, LUVERNE earned recognition for the quality and completeness of its product data.
Retrax took home the Fastest Growing Award for achieving the largest sales growth as measured as a percentage over the previous year.
Air Lift accepted the Manpower Excellence Award for fielding the most robust outside sales presence, including actively maintaining strong relationships with retailers and warehouses.
The Marketing Support Award, which honors the supplier that exhibited exceptional marketing concepts and execution, went to DECKED.
The Elevate rack system won the Product Innovation Award.
The Profit Generator Award, presented to Big Country/Go Rhino, recognized the supplier partner that generated the greatest opportunity for profit across distribution and retail.
The Shipping Excellence Award went to ARC Lighting, which demonstrated the best overall purchase order fulfillment rate.
Ambassador Award Winners
AAM also named six recipients of the Ambassador Award, given to individuals who provided unique and extraordinary support of member distributors.
John Gleason (United Sales Associates)
Brad Goodfellow (WARN)
Larry Lyon (Bestop)
Shane McNallie (Lippert)
Brian Schmidt (Putco)
Andrew Schroeder (Truck Hero)