News
AAM Group Names Employee of the Year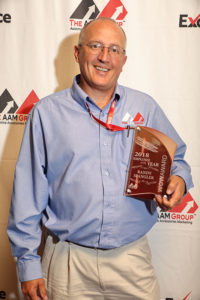 The AAM Group has named PACE Test Manager Randy Spangler as the organization's 2018 employee of the year and recipient of the W.O.W. award.
Spangler during the past year was instrumental in perfecting AAM's PACE B2B Web platform, serving as a testing, training, and troubleshooting liaison between AAM and onboarding member warehouses, according to AAM Group.
"With his testing expertise, Randy has played a huge part in our programming team's ability to grow," said David Ayers, AAM director of marketing and technology. "Randy has taken on roles that have never existed before at AAM-roles that have freed our programming team to step back from testing responsibilities and focus on their core tasks. Even among an established group of high performers, Randy has truly shined."
The W.O.W. award is given annually to the AAM employee who best exemplifies the qualities of commitment, creativity, initiative, and resourcefulness, according to the company. The award was named after Wilbur and Orville Wright, who embodied many of those same traits in their dogged pursuit to realize the world's first successful controlled airplane flight.
"To win an award I didn't even know existed-"to be selected from among so many talented employees at AAM-is an honor that I am proud to receive," Spangler said. "I am thankful that AAM celebrates the efforts of its employees and humbled by being recognized this year."