News
AAM Group to Honor SEMA HOF Inductees with Pinewood Derby Trucks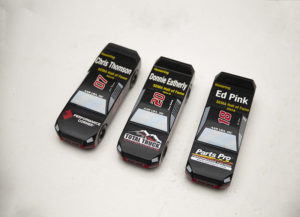 The AAM Group has bought and built three pinewood derby trucks to benefit the SEMA Cares charitable organization. The trucks, each sponsored by one of AAM's retail marketing programs, will be raced alongside other entrants in the Pinewood Derby to be held during the SEMA Installation Gala & Fundraiser on July 20 in Los Angeles.
In a special tie-in, AAM has dedicated each of the trucks to one of this year's three new SEMA Hall of Fame inductees: Donnie Eatherly, Ed Pink, and Chris Thomson. The truck numbers-07, 20, and 18-commemorate the date of the event.
AAM is especially proud to honor Eatherly's induction, as he serves as president of member warehouse P&E Distributing, according to the group.