News
AAM Group Delivers 10 Tips on Excellence…From an Elf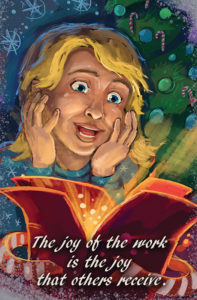 The AAM Group tried something a little different this year in place of its annual Christmas card. The company is instead offering a six-page, full-color booklet titled 10 Tips on Excellence, as told by the AAM Elf.
The Christmas-themed book shares essential customer-pleasing, business-building tips such as focus on creating a great experience, find out what people need-and deliver it, don't let a closed door discourage you, always be on time, take pride in your work.
Each tip is accompanied by a piece of original art commissioned just for the project.
"Conceived by AAM President Tim Odom as a way to offer practical, memorable value to business owners beyond the traditional Christmas card, the book shares nuggets of wisdom wrapped in a warm, fun, and positive package," according to an AAM Group press release, "just like ol' Saint Nick in his workshop."