News
A&A Auto Stores Named Official Sponsor of Carlisle Events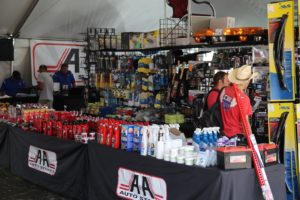 Carlisle Events has continued its relationship with A&A Auto Stores for its 2018 event schedule. A&A this year will officially be known as the official performance parts installer for Carlisle Events and the presenting sponsor of Carlisle Truck Nationals.
Carlisle Events draws more than half a million attendees annually to its car and truck shows at the Carlisle, Pennsylvania Fairgrounds.
Much like Carlisle Events, A&A Auto Stores started as a family business in 1958. Sixty years later, A&A Auto Stores offers 18 locations in eastern and central Pennsylvania. A&A Auto Stores in January opened its newest retail location and install shop less than a mile from the Carlisle Fairgrounds.
A&A and Borla Performance representatives first introduced exhaust sales and installations to Corvettes at Carlisle events more than a decade ago.
"I'm not sure it was part of the plan, but a free install offer on an exhaust sale turned into a line of Corvettes," said Ed Scholly of Carlisle Events. "The rest is history, as A&A continues to offer free installations of exhaust systems at all of Carlisle's car and truck show events.
"Due to the high demand of customers, A&A Auto Stores' footprint at many of the Carlisle specialty car shows has significantly grown. They offer exhaust installations from leading brands like MagnaFlow, Borla, Corsa, Flowmaster, Billy Boat and Kooks, and others for the convenience of Carlisle show participants," Scholly added. "Along with exhaust installations, A&A brings a wide variety of automotive products, accessories and expert knowledge to each Carlisle event including a comprehensive product line of truck and off-road performance parts from suppliers like Extang, TrailFX, K&N, aFe, Volant, American Car Craft, Edelbrock, and Titan Lifts just to name a few.
A&A Auto Stores will be offering exhaust installations and more on the Manufacturers Midway throughout Truck Nationals weekend, Aug. 3-5.
"Being named presenting sponsor of truck nationals is a perfect honor for A&A Auto Stores as it fits perfectly into our mission of providing the biggest selection of aftermarket accessories and OEM parts to truck owners in the industry," said Rudy Forlenza, director of retail operations for A&A Auto Stores. "Carlisle Events brings together enthusiasts from all over the country each year genuinely interested in discovering new suppliers and products. We are enthusiasts too and take tremendous satisfaction in knowing that A&A is in the position to get them what they need regardless of what make or model truck they own."
The 2018 Carlisle Events schedule kicks off with Spring Carlisle on April 18. A&A Auto Stores will be present at that event as well as five additional events throughout the summer.