News
704Games Receives New Investment from Motorsport Network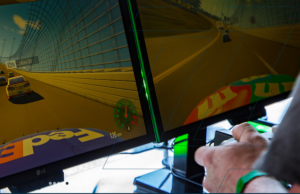 704Games, NASCAR Team Properties' exclusive console simulation-style videogame licensee, has announced a new investment from international media and technology company Motorsport Network.
With platforms that represent a large audience of motorsports and auto enthusiasts, Motorsport Network joins other high-profile existing investors including HC2 Holdings Inc., PlayFast Games LLC, Leo Capital Holdings LLC and Gaming Nation Inc., according to a press release.
By becoming a strategic stakeholder in 704Games, Motorsport Network is investing in NASCAR gaming for the first time and expanding its footprint within eSports, the release noted. 704Games' newest videogame release, NASCAR Heat 3, arrives at retailers Sept. 7.
Additionally, NASCAR Heat Mobile, the first authentic NASCAR mobile racing game, surpassed 2 million downloads earlier this year.
"Having Motorsport Network join 704Games creates new opportunities for the company, as we believe its wide international reach and technical resources will expedite our growth in key areas," said Paul Brooks, chief executive officer of 704Games. "Motorsport Network's media platforms in the U.S. speak directly to NASCAR fans every day and that is a huge benefit as we continue to grow into competitive gaming and eSports."
The investment also signals Motorsports Network's growing interest in videogaming, the release added.
"We are big believers that eSports will have a profound impact across the international motorsports community for years to come. Our investment in 704Games is a testament to that belief, as well as our newly established joint venture with the ACO and the 24 Hours of Le Mans," said Colin Smith, chief executive officer of Motorsport Network. "We have been very impressed with the 704Games team and its roadmap for the integration of eSports within the NASCAR Heat franchise. This, combined with Motorsport Network's loyal audience and marketing scale, will give us an incredible platform to captivate the current and future generations of NASCAR fans."
704Games also announced an extension of its NASCAR gaming license with NASCAR Team Properties through 2029. Originally acquired in 2015, this renewed multiyear agreement will give NASCAR gaming fans unique and exciting ways to engage with the sport through video games and eSports, the company stated.
"The joint effort between 704Games and Motorsport Network will introduce new and innovative features across the NASCAR Heat franchise for years to come," said Blake Davidson, NASCAR vice president of consumer innovation. "We continue to explore ways with our videogame partners to enhance our presence in the eSports arena and this will provide the stability and resources to expand upon that effort."