News
4 Wheel Parts Sponsors Off-Road Radio Show with Jim Beaver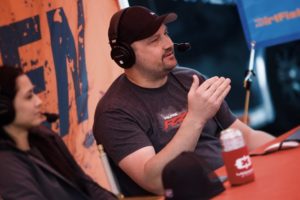 4 Wheel Parts (4WP) is the title sponsor of a new radio show and podcast geared toward off-road racing, UTVs, rock crawling, overlanding and recreation. The 4 Wheel Parts Down & Dirty Show Off-Road Edition Powered by Polaris RZR debuted on April 3 and is hosted by motorsports personality Jim Beaver. The first episode is available now.
Beaver, a professional off-road racer and nationally syndicated radio host, has been on the air for more than a decade with the Down & Dirty Radio Show Powered by Polaris RZR. He has been instrumental in pushing action motorsports, IndyCar, NHRA, Supercross, rally and drifting to the mainstream through television, radio, print and online appearances while actively competing in and covering the events, according to 4WP.
4WP is backing the new Off-Road Edition, an offshoot of the original show, which returns Beaver to his off-road racing roots. Top desert and short course racers will be among the first guests, and the show will continue to expand its range to cover all things off-road. The weekly podcast will be taped in-studio and at events with episodes dropping every Wednesday through a vast online radio and podcast network.
"I'm excited to return the Down & Dirty Radio Show to its off-road roots this year with the help of 4 Wheel Parts," Beaver said. "As a Trophy Truck and UTV racer who grew up watching my dad race, off-road racing has always been the cornerstone of my media efforts."
4WP has made a concerted push this year to align with top off-road athletes, influencers and brands.
"It's an exciting time to be a part of 4WP right now," said Joey DiGiovanni, 4WP director of creative marketing & partnerships. "Adding Jim and the Down & Dirty Show is another great brand partnership and one we are extremely excited about."
The 4 Wheel Parts Down and Dirty Show Off-Road Edition Powered by Polaris RZR can be found on the web at www.downanddirtyshow.com. Listeners can also subscribe, rate and review the show on iTunes.