News
4 Wheel Parts Signs Multi-Year Sponsorship Agreement with SCORE International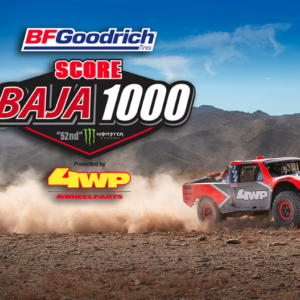 SCORE International announced it has entered a new partnership with 4 Wheel Parts (4WP), truck, Jeep, SUV and off-road performance parts retailer, as the Presenting Partner and Official Retailer for the 2019 SCORE Baja 1000 race, as well as the 2020 and future SCORE Baja 500 and SCORE Baja 1000 races.
"4 Wheel Parts' strength in the Industry is legendary with 95 stores across the U.S. addressing all off-road categories in all regions," says SCORE Marketing Manager Jim Ryan. "We applaud this bold move as a recognition of SCORE's strength in the marketplace and for attracting new partners that will have a major impact with SCORE International's participant and off-road performance fan base, that includes the automotive, off-road and powersports enthusiast markets."
The agreement will provide exposure for 4 Wheel Parts logo in SCORE's marketing programs starting with the 2019 BFGoodrich Tires SCORE Baja 1000 Presented By 4 Wheel Parts in November.
"Partnering with SCORE International is an exciting endeavor for 4WP," says 4 Wheel Parts CEO, Craig Scanlon. "It's an authentic way for us to continue our commitment to supporting the core of the off-road industry, our large enthusiast customer base, and our extensive staff of 4WP off-road experts. SCORE, with its over 50 years of heritage in off-road, perfectly aligns with who we want to be involved with as a company. I speak for the entire 4 Wheel Parts family when I say that it's an honor to be a partner and to support the SCORE International series in the world's most iconic off-road racing events."