News
4 Wheel Parts Offering Free Services for Essential Workers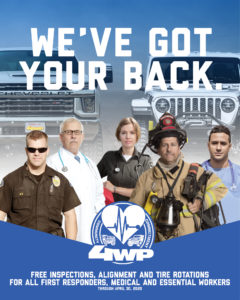 4 Wheel Parts is offering free inspections, alignment and tire rotations to all first responders, medical and essential workers at 4 Wheel Parts installation locations through May 31, the company announced.
"We want to thank all nurses, doctors, firefighters, police officers, EMTs and essential workers for all their efforts in these trying times. We want to give first responders an ease of mind when travelling to the front lines," the company said in a release. "4 Wheel Parts wants to provide safe driving conditions and alleviate the fear of a missed routine service to their vehicle. This is the time we as a country need to band together to help each other out."
Click here for more information.