News
3M Super Flexible Sanding Sheets Combine Strong Grip And Flexibility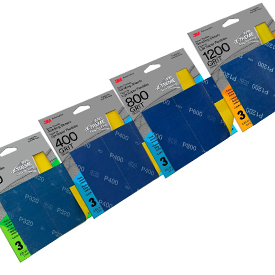 3M Auto just launched its new Super Flexible Sanding Sheets. The company describes the product as highly durable and super flexible featuring 3M's Gripping Material, which allows for an easier and less strenuous application process.
The 3M Super Flexible Sanding Sheets are nearly impossible to tear, allowing them to last longer than conventional wet or dry sandpaper, according to the company. Additionally, the paper's flexibility enables users to fold and shape the sheet without tearing or creasing in order to reach hard to access areas while performing body repair.
Typically hard to reach areas, such as bumpers, contours in body panels, panel edges, headlights and other small crevices, can now be easily accessed with the new 3M Super Flexible Sanding Sheets. The back surface of the sheets doesn't slip when used in folded form in any wet or dusty environment, according to the company.
"We created the 3M Super Flexible Sanding Sheets to provide auto DIYers with the necessary tools to get quality results with no rework," said Matt Callahan, 3M Auto global product manager. "The strong grip combined with the extreme flexibility of these sheets will make it easier for any DIYer to obtain their desired results. Not only will they complete the job in less time, but they'll also find it easier to sand even the hardest to reach places."
Tears, creases and slippery sanding sheets can hinder any body work project, but the 3M Super Flexible Sanding Sheets allow users to fold, roll and shape each sheet to meet their project's needs.
For more information, please visit 3mauto.com.