News
3M to Host Celebrity Car Designer at Upcoming Auto Fair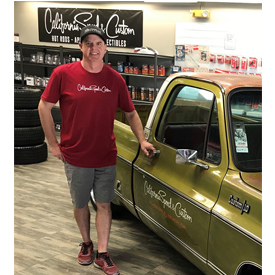 3M Automotive Aftermarket Division and automotive celebrity Mark Oja are teaming up for the April 5-8 AutoFair at Charlotte Motor Speedway. Oja is head of California Speed & Custom and the leader of the A Team on Velocity Channel's Overhaulin'.
Oja, who has starred on Overhaulin', American Hot Rod and other car building TV shows, operates California Speed & Custom Garage, where he and his team restore classic cars and build and refinish custom cars, hot rods and street rods. The shop also sells performance parts and auto body supplies.
Oja, born in Sault Ste. Marie, Ontario, Canada, got his love of cars from his late father Alvin while watching him working in the garage.  By the age of 13, Oja had painted his first car, and he never looked back.  After a 12-year stint at a GM dealership as director of fixed operations, Oja moved to Southern California to open a hot rod shop.  There he met Boyd Coddington, then went on to meet legendary car designer Chip Foose, and the rest is history.
At the Charlotte Motor Speedway Auto Fair, Oja will be at the 3M Demonstration and Education Mobile Operations Trailer on April 5-6, to meet fans, sign autographs and host demonstrations of 3M solutions for body prep, painting and paint finishing.
Oja also will be the judge for the Charlotte Motor Speedway Auto Fair 3M Automotive Aftermarket Division Award for best paint – one for the participating car clubs and one for the general public exhibiting cars.  The awards will be presented on April 6.
Top attractions at the Charlotte Motor Speedway Auto Fair include:
Movie/TV Cars
1958 American Graffiti Chevy Impala (original car driven by Ron Howard in American Graffiti), which was restored by NASCAR Hall of Fame legend Ray Evernham
1976 Ford Torino (from the Starsky and Hutch TV show- one of 1,310 produced by Ford Motor Co. in 1976 as a tribute to the show's popularity)
1948 Tucker (screen-used vehicle from the 1988 movie TUCKER: The Man and his Dream staring Jeff Bridges)
Miami Vice 1985 Chevy/Ferrari Daytona (from the first season of TV show Miami Vice. Driven by Don Johnson.  One of two used during the filming of the show)
Days of Thunder Chevy (actual screen-used City Chevrolet NASCAR driven by Tom Cruise)
100 Years of Chevy Trucks (1918-2018)
Rick Lancaster's 1950 custom
Scott Russell's 1959 Chevy Apache
NFL Football Stars' Custom Cars
DeAngelo Williams' 1984 C10 truck
Mike Tolbert's 1970 Chevelle
Gary Bainbridge's Chevy Coupe 1949
The Charlotte Motor Speedway AutoFair features more than 50 car club displays and more than 10,000 vendor spaces. More than 1,500 collectible vehicles of all makes and models will be available for sale in the car corral that rings the 1.5-mile superspeedway.