News
2019 SEMA Show Mobile App Now Available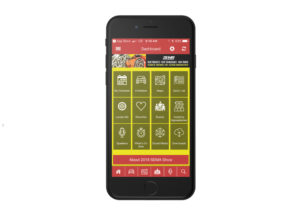 The official 2019 SEMA Show Mobile App is now available for download at www.semashow.com/app. The free app gives Showgoers access to a comprehensive list of all exhibiting companies, seminars, events and more, allowing users to create a personalized plan for their time at the trade show, held Nov. 5-8 in Las Vegas, NV.
"The SEMA Show Mobile App enables Showgoers to leverage all the Show has to offer," said Tom Gattuso, SEMA Vice President-Events. "The app has been updated and new features have been added, making it the ideal tool to stay informed on everything happening at the 2019 SEMA Show."
New this year is an interactive feature that gives users information on featured vehicles displayed throughout the Las Vegas Convention Center. By scanning a vehicle's QR code, located on a Feature Vehicle sticker attached to the vehicle during check-in, the app will display the vehicle's year, make and model, information on the exhibitor displaying the vehicle and a list of products used on the vehicle. The app also allows users to access a list of exhibitors from 2018 and any saved product information.