News
2019 PRI Education Program Announced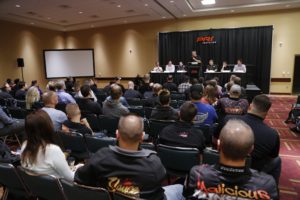 Speakers and presenters taking part in this year's Performance Racing Industry (PRI) Trade Show Education program represent a who's who of industry experts and top performers on the track, in the shop, and behind the businesses that specialize in race parts and services.
Attendees of the 2019 PRI Show, set for December 12-14 at the Indiana Convention Center in Indianapolis, will have more opportunities than ever to pick up valuable tips and takeaways during an expanded seminar lineup covering a wide range of topics-from sales and marketing strategies to finding and hiring qualified employees to best practices in race track operations and much more. In fact, included among this year's expanded educational programming are several technical seminars focused on race engine technology, a roundtable with top sanctioning body representatives, a panel discussion featuring top female drivers, and more than a dozen business-focused sessions guaranteed to help racing professionals boost their operations ahead of the 2020 season.
"The quality and quantity of educational programming offered at this year's PRI Trade Show is nothing short of extraordinary," said PRI Editor Dan Schechner. "PRI Education has put together an incredible lineup of top-flight presenters and panelists in order to deliver unprecedented value for Show attendees and exhibitors. Regardless of the business or racing segment you're involved in, we guarantee you'll come out of our seminars more informed and better prepared for future success."
With more to be announced in the coming months, speakers scheduled to participate in this year's PRI Education program include:
* Engineer and author David Vizard: With more than 30 automotive books and 4,000 magazine articles, Vizard is one of the world's most widely published automotive writers. His technical seminar will offer insights and lessons from Vizard's 50 years of engine customization.
* Lake Speed Jr. of Driven Racing Oil: Speed, a certified lubricant specialist, plans to discuss the latest evolutions in oils and fuels as they relate to direct injection engines, diesel engines, modern engines, and vintage engines.
* Darin Morgan of Reher-Morrison Racing Engines: In his seminar on key advances in modern cylinder and port design, Morgan will go in-depth on how efficiency has increased power over the years while uncovering the pitfalls associated with this technology.
* Jason Enders of RE Suspension and Gary Crooks of Port City Racecars: Enders and Crooks team up to present a seminar on bump stops and provide the necessary working knowledge to help teams better understand their race cars. Attendees will learn about the latest technology that short track asphalt racers are using to push the envelope.
* Jeanette DesJardins of Car Chix and Crank It Media will moderate an all-female panel that includes racing standouts Natalie Decker, Lea Ochs, and Sarah Burgess discussing opportunities for women in motorsports. Attendees will hear about their challenges, triumphs and lessons learned, and better understand how to market to, engage with, and raise awareness among young women interested in pursuing motorsports as a career.
* NHRA Announcer Alan Reinhart: Reinhart will lead a roundtable featuring representatives from ARCA, NASA, IMCA, NMCA/NMRA, and other race sanctioning bodies discussing a range of topics at the forefront of motorsports today, such as controlling costs, technical specs, and rules enforcement.