News
1016 Industries Previews 3D Printed Parts for Mclaren 720S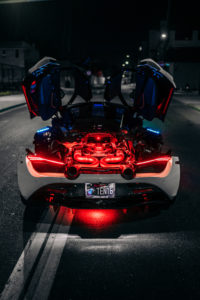 1016 Industries is previewing its very first 3D printed exotic car parts for the McLaren 720S. Set to officially debut later in June, the new 1016 Industries 3D printed McLaren parts are functional prototypes that showcase a new approach to exotic car manufacturing.
Initially conceived as an exploration of how to make precise, high quality parts more quickly, the new 1016 Industries McLaren project utilized the services of a state-of-the-art 3D printer. 1016 Industries was able to save substantial time creating complex parts with design criteria validated using Computational Fluid Dynamics (CFD), a special process that 1016 Industries incorporates in its manufacturing. 1016 Industries partnered with Abushi Automotive to bring the new 3D printed McLaren 720S parts from concept to reality.
"Our focus for this project was exploring how we could employ 3D printing in the automotive world, and the results creating these McLaren 720S parts are impressive," comments 1016 Industries Founder Peter Northrop. "The 3D printing process has not only allowed us to manufacture faster and more efficiently, but we've also improved quality. The 3D technology has allowed each 1016 Industries part to be even more accurately made, with each part printed in real scale to validate our CAD and CFD work. Historically, 1016 Industries has always been about providing our clients the best in class of everything. We're very excited to show the world the very first 3D printed McLaren parts incorporated onto an operational 720S."
Despite the difficulty of 3D printing parts and pieces for a vehicle given the McLaren's complex geometry and distinctive shape, the process of designing and incorporating each piece was completed in less than four months. Even with the variance in size of each 3D printed part, every portion of the new 1016 Industries vehicle was printed in just 120 hours, with all parts being printed in a single pass and no bonding of multiple pieces to make a single panel required. This initial development stage shows the capability of 1016 Industries to fully validate and prototype entire vehicle surfaces in 1:1 scale.
In the future, 1016 Industries plans to provide direct printed tooling molds for the McLaren 720S and other supercars, while also potentially manufacturing products directly as 3D printed parts.