Features
Wisconsin Shop Student Wins SkillsUSA CRT Championships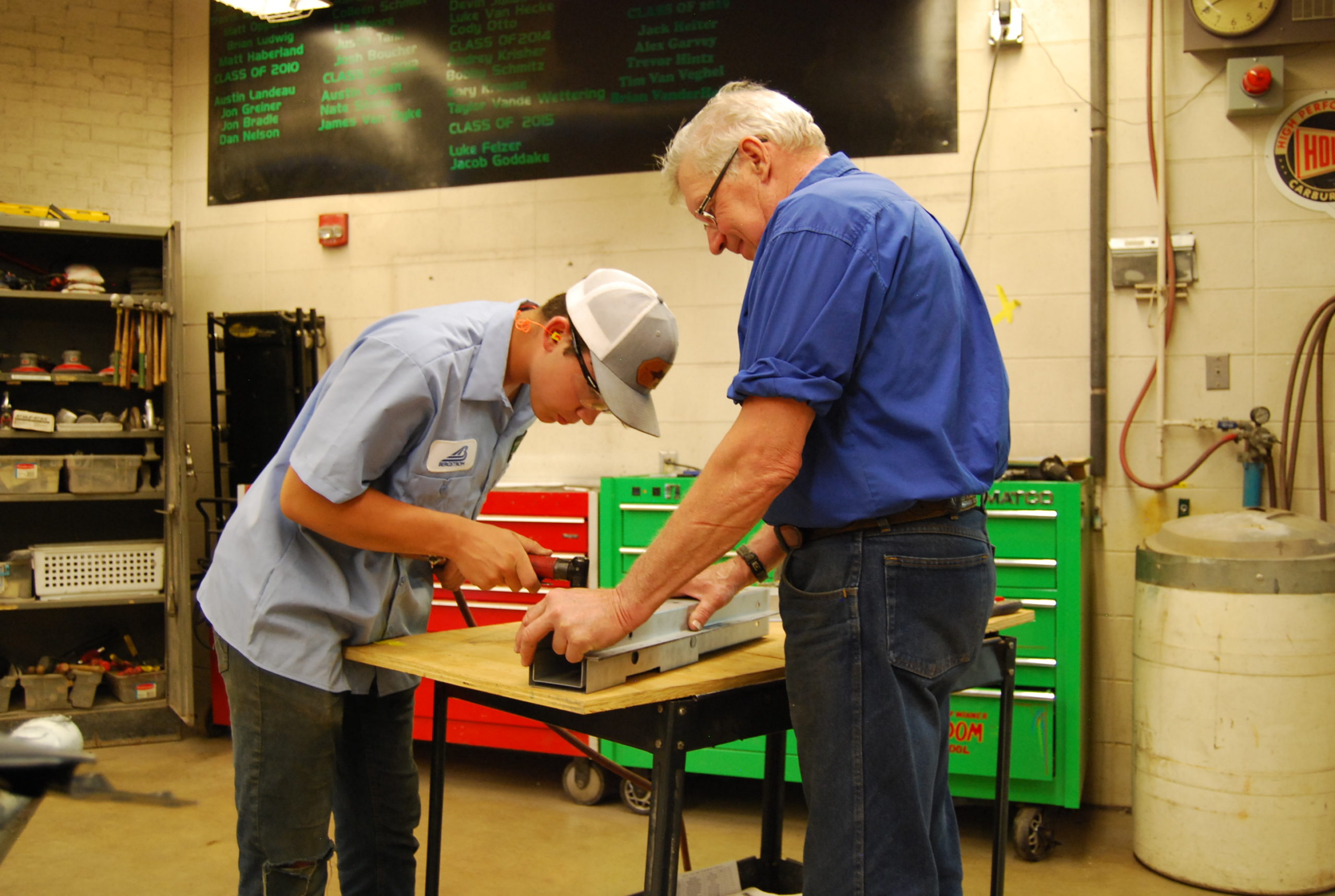 No matter what hot rod or auto fabrication shop you visit today, you're likely to hear someone say, "It's impossible to find good help." But, if Luc Murphy walks into your shop, you may want to be sure you have a job application handy because he just won the SkillsUSA Collision Repair Technology (CRT) Championships.
His regular auto-body instructor Jay Abitz—as well as others involved like Jason Bartanen and Dave Sarna—think that Murphy has what it takes when it comes to doing bodywork, welding, painting and more. And he proved them right on June 10, when he turned out to be the only Wisconsin student competing in the first and only (to date anyway) SkillsUSA Virtual Collision Repair Technology (CRT) Championships, which he went on to win.
In the past, contestants in the regular CRT Championships program met in one place to demonstrate their ability to perform jobs and skills based on a task list outlined by the National Institute for Automotive Service Excellence (ASE) and the ASE Education Foundation. It was the same this year, except that, due to COVID-19, the Championships were held virtually, all on the same day, at various high schools across the country.
Bartanen came to the SkillsUSA event at Murphy's home school—Freedom High School in Freedom, Wisconsin–from the I-CAR Tech Center in Appleton. I-Car supports SkillsUSA with sponsorship and training kits. Bartanen—I-Car's director of industry technical relations—said I-Car deals with six car industry aspects: education; collision repair; insurance; related research services (publishing and providing information); testing organizations such as SkillsUSA; and equipment, tools, products and materials.
Bartanen said that I-CAR feels everyone in the autobody repair learning chain should have the information, knowledge and skills required to perform complete, safe and quality repairs for consumers. I-CAR's educational efforts and equipment are also relevant to those in the specialty automobile niche who tear cars and trucks apart for modifications or restoration and then have to reassemble them correctly and safely.
The SkillsUSA competition featured a series of stations set up to assess student skills in metal straightening, attachment methods, plastic repair and structural analysis. Following an interview with his Segment Leader, Murphy demonstrated his metal repair skills in the school's automotive shop, then took the plastic repairs test. Sarna, a former Fox Valley Technical College Auto Tech Instructor, was the independent proctor for both sessions.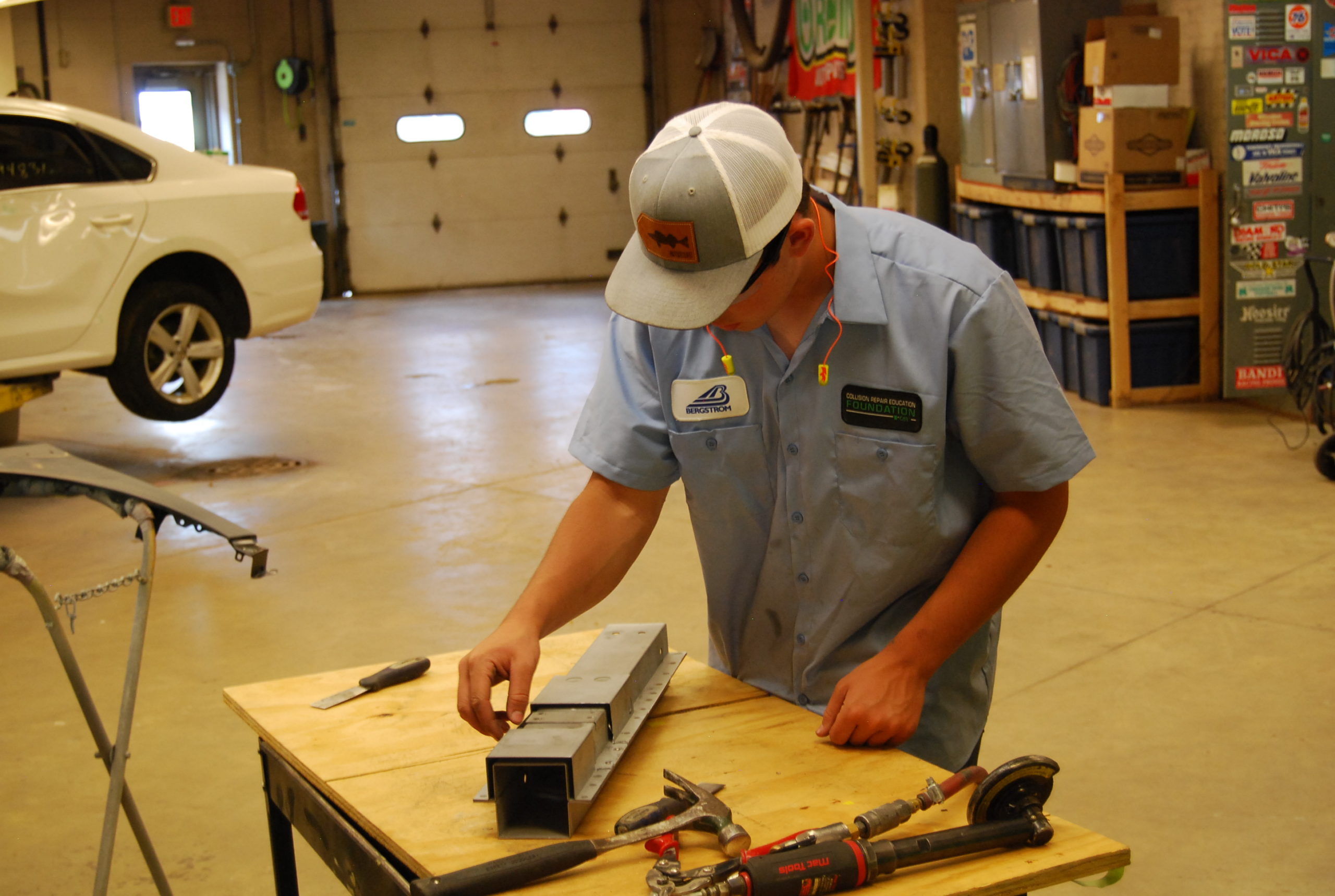 After lunch, Murphy completed a written structural analysis classroom test. This was followed by a two-hour session, during which he demonstrated his hands-on abilities in attachment methods. He was required to cut a section of metal out from a partial frame rail stamping, then shape and weld-in a replacement section that was eventually checked and measured for quality and accuracy.
The overall appearance of the finished product, as well as the speed of the repair and Murphy's use of proper safety practices, were judged by Sarna. Also judged were two written tests on estimating and structural analysis, as well as an ASE examination. Murphy also had to fill out a job application, bring a resume and go through a mock job interview.
Freedom High School also has a very active group called the Freedom Auto Club, which consists of current and former students and local car enthusiasts. Murphy has been a member of the club for three years. He currently works at a small mechanic shop and says he would eventually like to pursue the possibility of opening his own auto repair shop.
"This is my second SkillsUSA experience," Murphy said. "I entered the competition because my instructor, Mr. Abitz, thought that myself and a few of my classmates had good chances for success. I'm grateful to Mr. Abitz for giving us the opportunity to compete."
Murphy wound up becoming the only Wisconsin student to make it into the final competition. "I didn't feel pressured by that, but I felt it was cool that I was the only student from Wisconsin to make the finals."
Murphy says he pretty much "winged it" on preparing to compete in the SkillsUSA Virtual Collision Repair Technology (CRT) Championships. "My instructor and I went over what the competition was going to include, but that was about it. I didn't really practice although, most of what was included were skills I have had plenty of practice with over the years of being in the Freedom High School Auto Club."