Features
WD-40 to Debut 1951 Chevrolet 3100 Rebuild at SEMA Show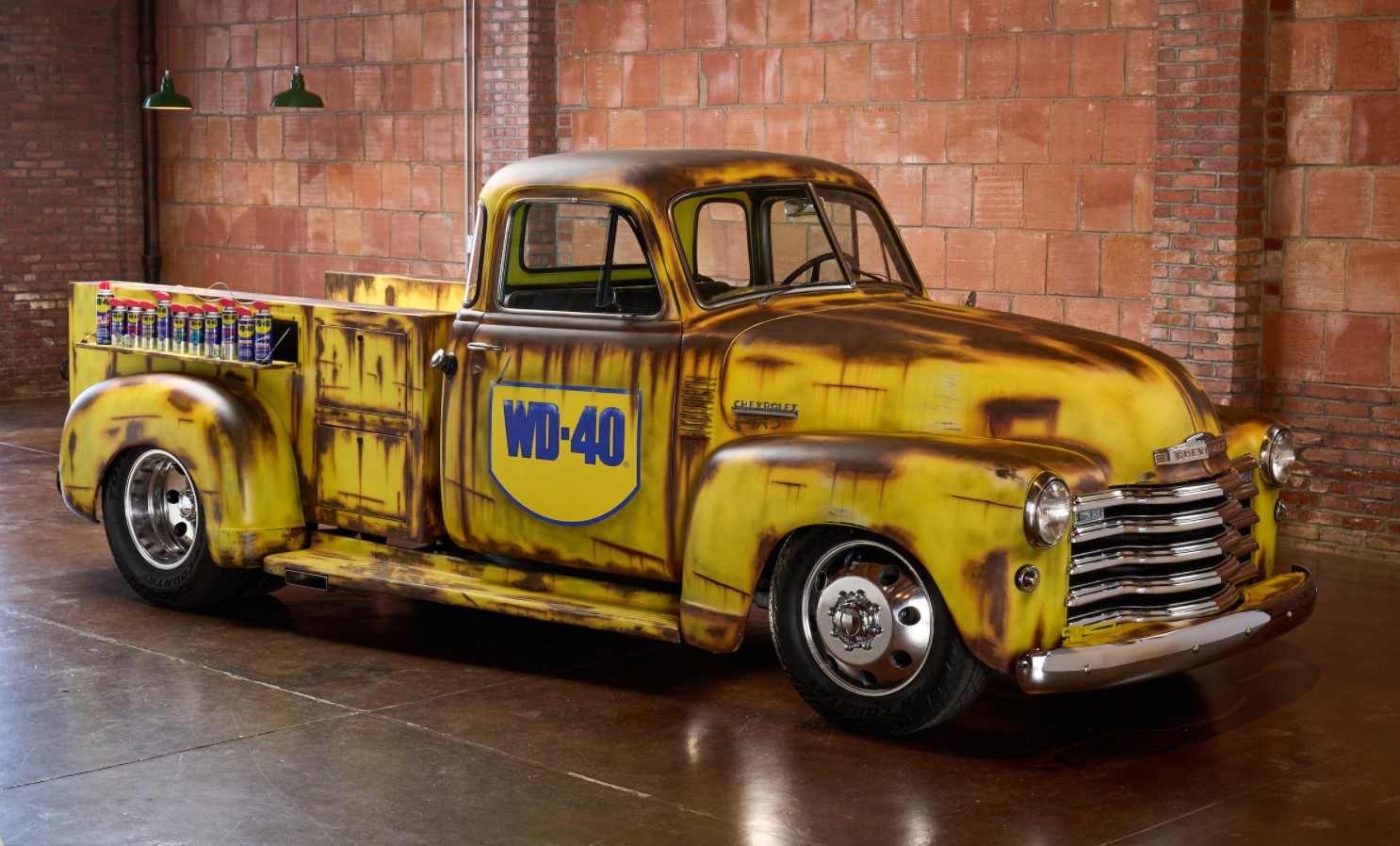 WD-40 will debut its 1951 Chevrolet 3100 rebuild at the SEMA Show next month, the company said, which will be sold after the show with proceeds benefiting SEMA Cares Charities.
Built by Trad Ronfeldt, the 1951 Chevrolet 3100 was designed to look like it just rolled off the production line, Ronfeldt said. He accomplished this with a custom-built dually rear end, backed by added horsepower and superior performance, he said.
The Chevy truck is the result of a partnership between Ronfeldt, crew chief to seven-time Pro-4 off-road racing champion Kyle LeDuc, and WD-40 Brand, which is debuting the custom fabrication at the 2021 SEMA Show (West Hall #50109).
To rebuild the truck, Ronfeldt fabricated the truck bed from new materials designed to match the truck's year and model. Ronfeldt stamped, bent and cut the bed, imitating the truck's body lines to make it look like a Chevrolet production piece straight off the 1951 assembly line.
Additionally, the WD-40 Brand/SEMA Cares Custom 1951 Chevrolet 3100 has:
A V-8 fuel-injected 383 Stoker producing 500-plus horsepower
Custom dually rear with widened Currie Axle
New suspension design
A restored cab interior with new upholstery and distressed leather seats
A custom patina paint job
Completely new drivetrain and transmission
"The 1951 Chevrolet 3100 is an American classic, and we've transformed it, using WD-40 Brand products and a whole lot of passion and grit, into a modern, one-of-a-kind vehicle," said Ronfeldt. "WD-40 Brand is an industry icon, with a long history of helping pros get their jobs done right and this project is no exception. It's an honor to work with such an iconic brand on a project that I know will make a difference."
The custom vehicle will be sold at auction on bringatrailer.com in early 2022 to benefit SEMA Cares charities, including Childhelp, a nonprofit organization dedicated to the prevention and treatment of child abuse.
"WD-40 Brand has been helping automotive pros get the job done right for more than 68 years," said Erin Bala, senior brand experience, engagement and innovation director at WD-40 Company. "The WD-40 Brand/SEMA Cares Custom 1951 Chevrolet 3100 is a continuation of that tradition and is sure to inspire automotive pros and enthusiasts alike. The project also continues our long history of giving back and making things better than they are today."
Click here for more information and images of the 1951 Chevrolet 3100.