Features
Vintage Shop Equipment: Wisconsin Machine Shops are Real-Life Relics — Part 1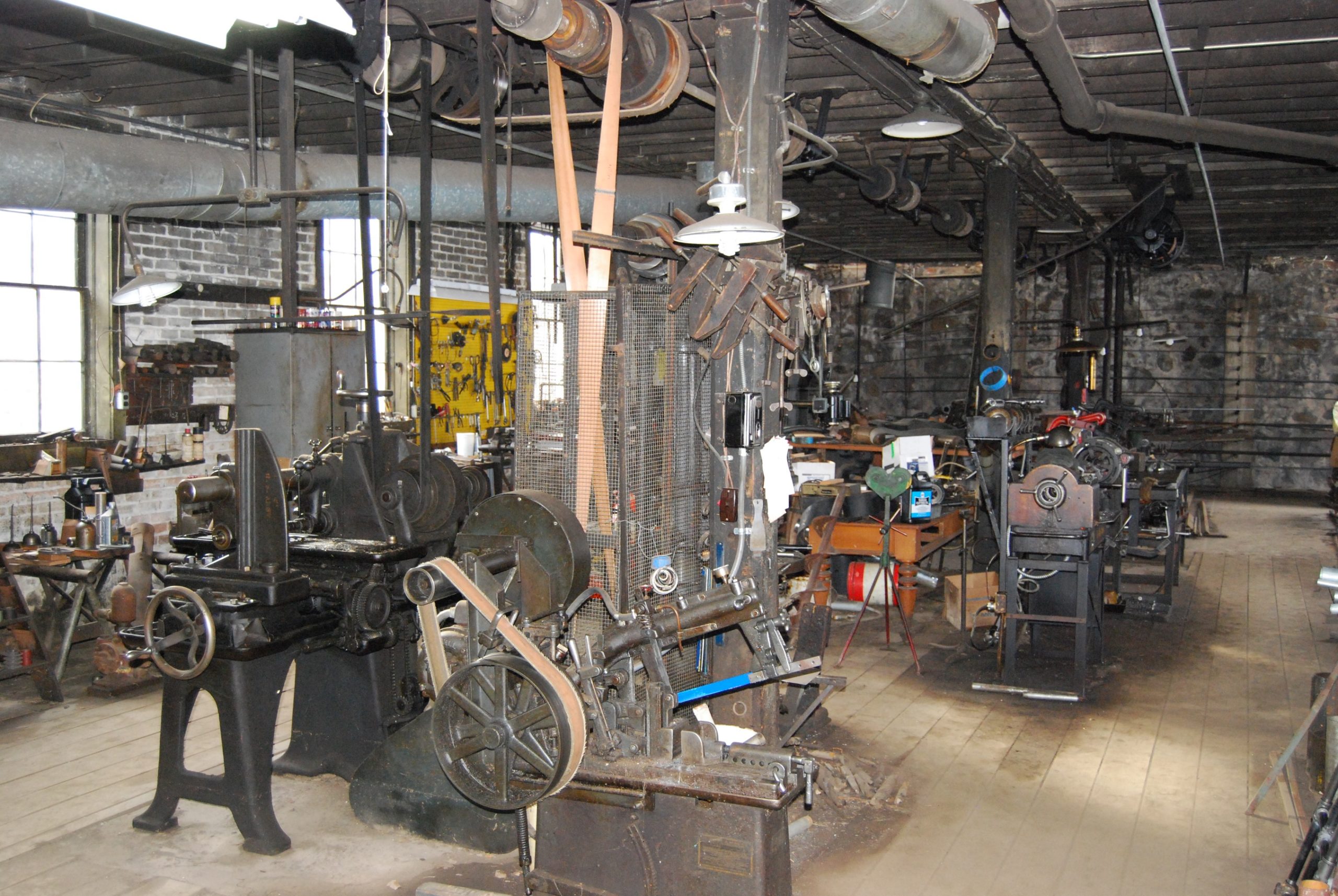 Two machine shops in the same Wisconsin county—both of which helped very early automobile owners—survive today. Both date from the early 1900s and may be among the earliest automotive shops still operating in America. Both started as blacksmith shops but added automobile repair to their services as the number of motorists grew. One is hidden in the cellar of a still-open hardware store and the other is known as the original home of the "Birthplace of Four-Wheel-Drive Museum."
In both long-lasting Wisconsin shops, you can still see antique automotive equipment and tools. In fact, many of the machines are still functional. Both shops exist in Waupaca County in north-central Wisconsin. One is in the city of Waupaca and the other in the city of Clintonville, where Seagrave fire apparatus and FWD trucks are built.
The Waupaca machine shop can be found in the cellar of the W.J. Doran hardware store in Waupaca, Wisconsin. It dates back almost 115 years, having opened as the A. M. Hansen Machinery Hall in 1907. Even before it was built, the Waupaca Republican noted "the large and roomy basement of the building is equipped with two lathes, drilling machines, pipe cutting machines and everything usually found in the best machine shops."
A.M. Hansen was a tall, stern man with a big mustache. He owned the second car in the city of Waupaca—a red Rambler. Hansen always had a cigar in his mouth and a gold-headed cane. When driving, he wore a long yellow duster, a straw hat and gloves.
Hansen ran a blacksmith shop and was talented at repairing wagons, carriages and farm implements. When automobiles arrived, it was natural for him to start doing auto repair work. He went on to become one of Waupaca's pioneer garagemen. By 1908, a year after opening his shop, Hansen was selling Maxwell and Rambler automobiles.
Hansen's shop handled everything from gas engine repairs to steam fitting. Upstairs, the main floor of the 35 x 100-ft. building was a sales floor for gas engines, pumps, steam fittings, hoses and plumbing supplies. There was also an office described as being "as fine as any in the city."
Hansen had a booming business. He and a partner built Waupaca's waterworks. His son, Alton Hansen, came to own the hardware store and machine shop and ran it until 1962 when he was hit and killed by a car while walking to work.
Wally Doran came into the picture in 1964. Doran worked a few jobs and was looking for something better. He saw a "machine shop for sale" ad in a newspaper. At the time, Doran was married with three kids and his wife was pregnant again. He had no money but contacted Hansen's widow and she helped him in purchasing the shop. The acting manager stayed on to work for him and wound up sticking around for four decades!
As time went on, Doran developed an interest in the building's history. He replaced the old coal-burning furnace that had turned the ceiling of the downstairs machine shop sooty black. He replaced a concrete floor with one that looked like the original hardwood floor. He got a grant for historic buildings to help repair the brickwork and water damage.
Doran did get rid of a few old machine tools, but everything else was kept in good condition and the shop is something to see today. As you descend the long flight of stairs from the sales floor, you have the impression that you are going back in time to the dawning of the Industrial Age. It is dark and musty, but it is also beautiful.
The old machines are mostly "industrial strength" in appearance. They carry names like "Howell" and "Becker" spelled out in heavy raised letters on their cast iron decks. Several machines have heavy stands, huge flywheels and massive castings. Most are covered with metal shavings that resulted from years and years of constant use. "The Pipe Master" reads the gold script on the black pipe cutting and threading machine.
Wide leather belts hang down from pulleys mounted on long shafts that run the length of the ceiling. As Doran starts a machine up, the pulleys spin and the belts go into action driving the flywheels on the ancient machines. A few of them still have wooden clutches to engage the gearing. Doran believes that some of the machines were military surplus units, as they still have "U.S. Army" stenciled on their sides.
The basement also holds another historical treasure-A.M. Hansen's old blacksmith shop. It is intact and attached to the side of the building that faces away from the street.
Doran is now in his mid-80s and has owned the store and the machine shop for more than half a century. He still goes to the shop to deal with a few customers, take care of ordering inventory and making sales and still does a limited amount of machine shop work. He says that he knows he will have to figure out what to do with the business someday soon. In the meantime. It's just a place to hang out, putz around and bask in the history of a skilled trade that gets too little recognition today.