Features
Vintage Shop Equipment: Hercules Portable Crane Hoist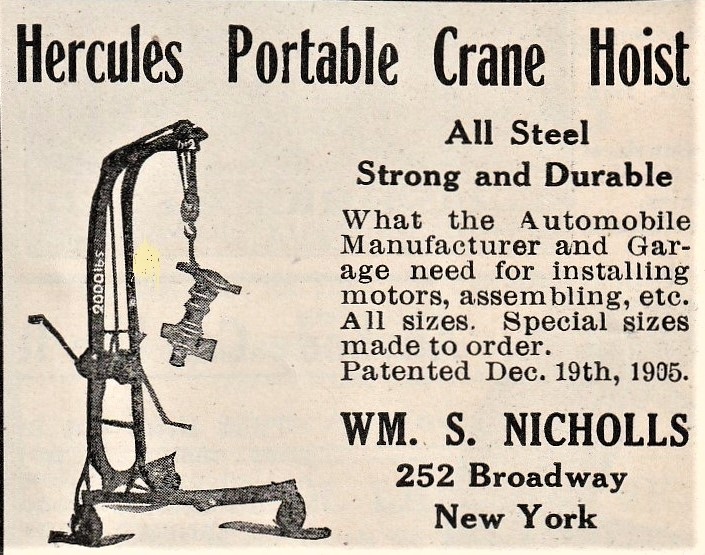 Muscle-man Hercules was the Roman god of strength and heroes, so it's no wonder why his well-known name was adapted for the Hercules portable crane hoist promoted in the Nov. 1, 1907 issue of Cycle and Automobile Trade Journal.
The Hercules hoist had been patented on Dec. 19, 1905 and was made in the U.S.A. The manufacturer had its headquarters in New York City. The hoist was made totally out of steel. It was a strong and durable piece of equipment to have in an automotive shop of that era and cost less than $50.
The crane maker suggested that automakers, as well as shops, would be interested in the Hercules Hoist. "What the automobile manufacturer and garage need for installing motors and assembling, etc." said the company's small advertisement in the early trade journal. The crane came in "all sizes," including special sizes made to order.
Three years later, the Hercules was replaced by a new model. "William S. Nichols, 253 Broadway, New York, has just made an addition to his line of portable cranes: the Auto Buggy pattern seen here," said a press release for this crane. "It should be a handy tool for the garage, as one man, with its aid, can handle motors, transmissions, etc."
The 1910 model weighed up to 750 lbs. and had the capacity to handle big jobs with ease. The hoist was built in a strong, substantial manner with steel shapes forming the frame. The hoist cable was of made of 5/8-inch manila tested to a breaking strength, in 10-foot lengths, of 4,000 pounds. A chain could be furnished in place of the cable, at a small additional charge, if the customer desired. The Auto Buggy sold for $52.50.