Features
Vintage Shop Equipment: Attwood Grease Cabinet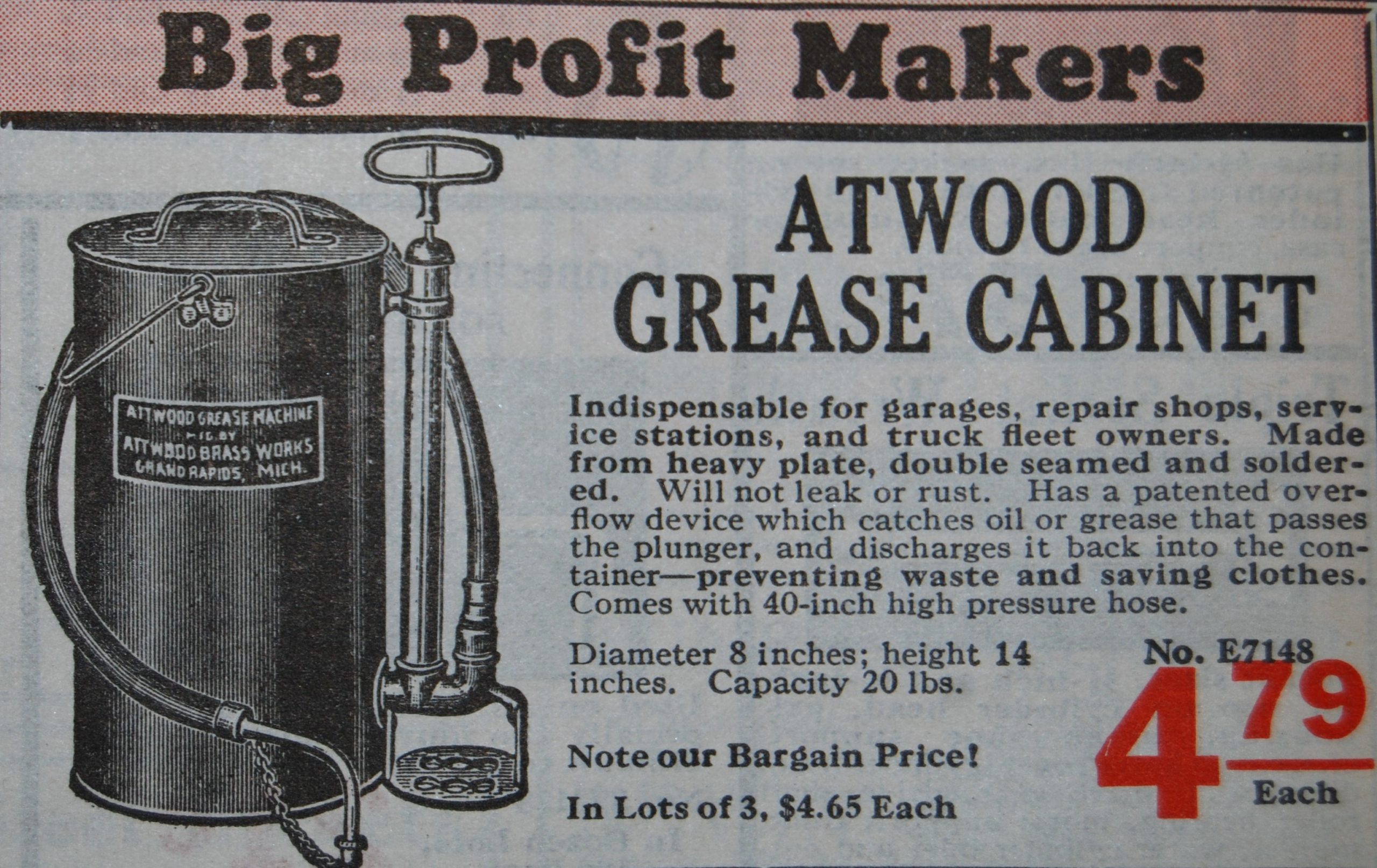 In 1925, the Attwood No. E7148 Grease machine offered automotive shops a lot of value. According to its manufacturer, this lubricant pump–called the Attwood Grease Cabinet—was "indispensable for garages, repair shops, service stations and truck fleet owners."
The cabinet was made from a heavy brass plate that was double seamed and soldered so it would not leak. Being made of brass, it did not rust either. The pump incorporated a patented overflow device to catch oil or grease that passed by the plunger and discharged it back into the cabinet. Attwood said this feature prevented waste and saved clothes.
The E7148 was eight inches in diameter and 14 inches high. It had a 20 lb. capacity. Best of all, its list price was $4.79 and if a shop bought three, they got them at the bargain price of $4.65 each.
If you're a boating enthusiast, you may be familiar with Attwood. It is still in business in Grand Rapids, Michigan, where it was founded in 1893 by Charles F. Attwood to make fittings for carriages and hearses. By 1905, Attwood began providing parts to the thriving Great Lakes Maritime trade. Today, Attwood is a leader in the design, development, testing and manufacturing of high-quality boat parts and accessories
When Christopher Smith founded Chris-Craft in 1923, he turned to Attwood to supply brass fittings for his classic wood pleasure boats. Initially, Atwood specialized in underwater parts such as rudders, struts, strainers; and on deck hardware such as lights, cleats, chocks, and other marine parts.
Amazingly, you can still buy an Attwood No. 11891D7 gear lube pump for your shop today. It will be made mostly of plastic, rather than brass, but the price is still low—about $16.