Features
U.S. Vets Race to Spread Thrill of Motorsports with Comrades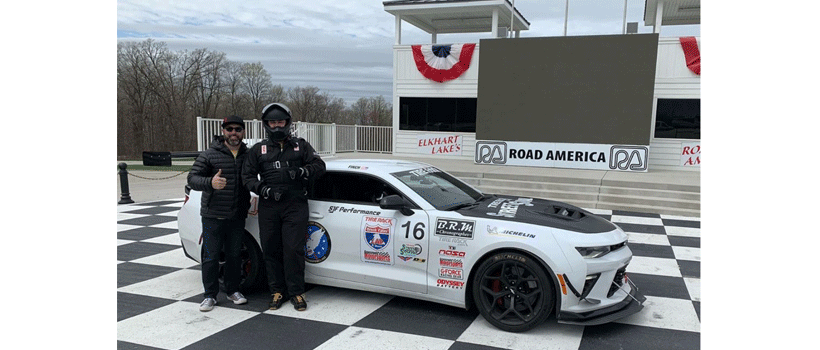 Two United States military veterans are hoping to complete a 5,000-mile race across the Midwest this week while raising money to support a nonprofit organization connecting vets with motorsports.
Team 1 Lap 1LE—consisting of Army National Guard Sergeant Chris Vanderwolk, Marine Corps Corporal Ryan Finch, and their new-model Camaro—is competing in the 36th One Lap of America cannonball-style motorsports event. During the May 4-12 race, 78 two-member teams cross through eight states in their race cars, arriving at select race tracks for time-trial competition each day. Support crews are not allowed for the journey and teams must stick with the same set tires they start with.
"Although scoring is based on performance at the race tracks, the vehicles and their drivers must survive over 5,000 miles of driving interspersed with the finest meals available at gas station convenience stores," according to  race officials. "Personal hygeine takes a holiday and friendships (sometimes marriages) are stretched to the limits as these competitors battle fatigue, weather, traffic and the demands of high-speed competition with both unknown amateurs and seasoned professional drivers, like Parnelli Jones, Price Cobb, John Buffum, Elliot Forbes Robinson and Hurley Haywood."
Vanderwolk and Finch are leveraging their elevated platform during One Lap of America to raise money for VETMotorsports, a nonprofit providing unique motorsports experiences for active military, National Guard, Reserve, Gold Star families, and veterans with service-connected injuries.
Both veterans are longtime racers. Vanderwolk, who served as a human intelligence collector in Bosnia, has competed in autocross and road racing for 15 years. He participated in his first One Lap of America last year, finishing third in class and 16th overall. Finch, was a motor team mechanic during two tours in Iraq. He has eight years of autocross experience and multiple wins in Match Tours, National Tours and Pro-Solos.Team 1 Lap 1LE has invited the military community to join them at stops throughout the week to participate in ride-alongs and learn more about the VETMotorsports program.
"We were already doing the One Lap," Vanderwolk said, "this was just a way for us to make it more meaningful. We're hoping to get lots of veterans and others out to the tracks to learn more about the program and help us get more guys like us behind the wheel in the future."
The team has set a fundraising goal of $5,000, and is challenging the military and motorsports communities to contribute at facebook.com/1lap1le. Fans can also follow the team on social media at instagram.com/1lap1le.
One Lap of America started its tour in South Bend, Indiana, with other race track stops in Ohio, Wisconsin, Minnesota, Nebraska, Iowa, Illinois, and Kentucky, before concluding in South Bend on May 11.
"The One Lap is the definition of grassroots motorsports and what Chris and Ryan are doing is a grassroots effort, too," said Peter Cline, VETMotorsports founder and executive director. "They've taken their passion and turned it into a platform, which is incredible. We're so excited to follow their exploits and get even more members of the military community involved in our programs."
Team 1 Lap 1LE will provide ride-alongs for veterans during the following One Lap of America stops:
11:30 to noon on May 7 at Brainerd International Raceway Road Course
11:30 to noon May 8 at Motorsports Park Hastings Road Course in Hastings, Nebraska
11:30 to noon May 9 at Blackhawk Farms in South Beloit, Illinois
11:30 to noon May 10 at NCM Motorsports Park East Course in Bowling Green, Kentucky
Ride-along participants should plan on being onsite by 10:30 a.m.
Team 1 Lap 1LE also is hosting a meet and greet from 8-11 a.m. on May 11 at the Tire Rack Wet Skid Pad in South Bend.
VETMotorsports has helped more than 200 veterans participate in more than 90 motorcycle and auto racing events across the U.S. since its 2012 founding.
More information about the organization is available at VETMotorsports.org.