Features
Upgraded Driveshafts Keep Jeeps on the Trail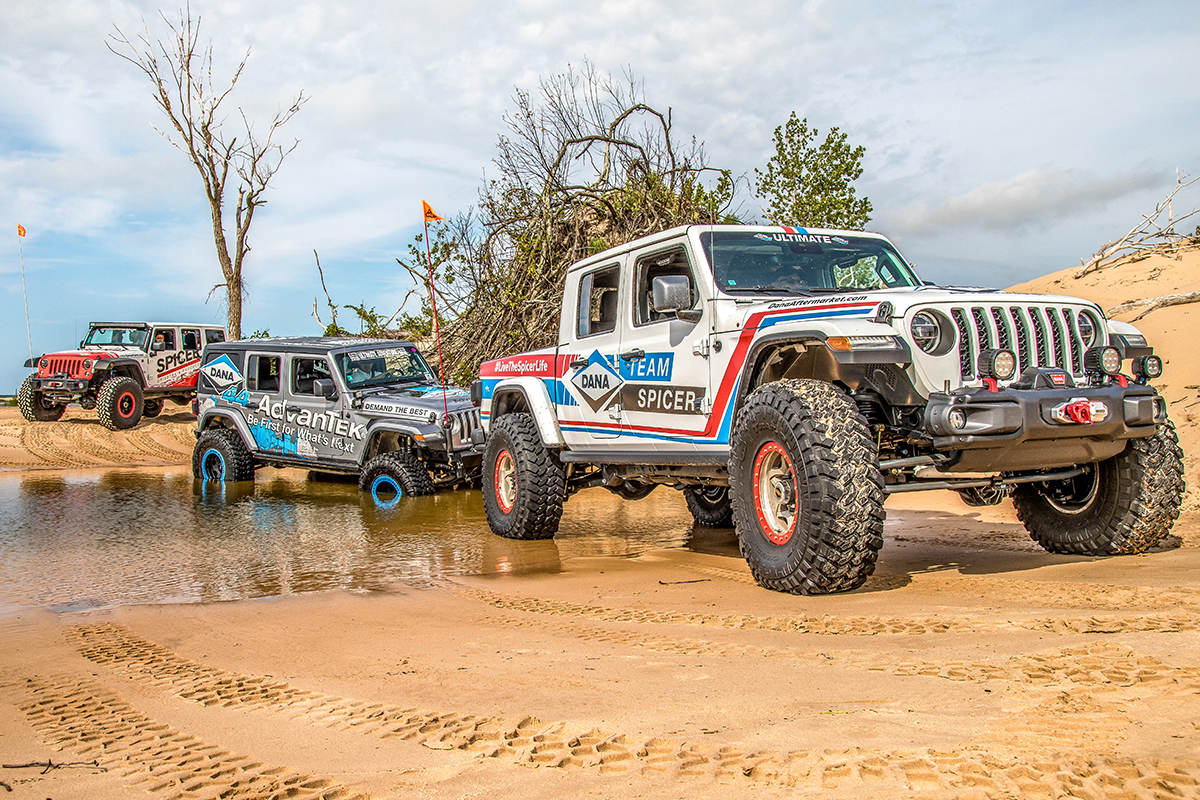 With larger tires and a lift kit, a customer's Jeep® may look amazing and seem capable of taking on any trail—but looks can be deceiving. Even if the Jeep is running fine while daily driving, a factory driveshaft under that rig is often just a headache waiting to happen. And when a Jeep owner is reporting a vibration upon acceleration or a terrible clunking noise, immediate action is required. Without a stronger driveshaft to go along with those sweet modifications, that Jeep may soon be looking amazing while stranded trailside.
Many customers let a driveshaft upgrade take a back seat to flashier alterations like suspension lifts and bigger tires. They may need a reminder that the front and rear driveshafts on a Jeep are crucial components, conveying power from the engine to the wheels and delivering torque to the differential. These hard-working parts are continually exposed to stress and torsion, and certain modifications can push the Jeep factory driveshafts beyond their limits.
---
About This Sponsored Content
For customers seeking optimum performance, aftermarket upgrade parts offered by the Dana and Spicer® brands are a reliable choice. Dana Aftermarket parts are designed, engineered, and manufactured to meet the strict standards established for OE car companies because Dana is an OE manufacturer. In terms of the Jeep brand, Dana has served as the OE driveline supplier since the Jeep began in 1941.
---
Generally, customers should think of replacing their factory driveshafts when installing any lift kit. If they are going for a 2.5-inch or higher lift, this quickly becomes a necessity rather than a consideration. Explaining that a lift kit alters the geometry of the suspension, and the added suspension demands can conflict with shorter factory driveshafts, may help owners better appreciate the situation. Upgraded aftermarket driveshafts offer the additional length and strength required to accommodate these alterations.
Larger tires multiply torque loads due to their larger radius. This means it takes more force to start rotating the tire, and when the tire encounters a rock or pothole, it feeds that extra force back into the driveline. Unfortunately, factory driveshafts are simply not designed for this level of stress.
Once a customer commits to upgrading to a high-performance driveshaft, they'll likely seek specific features and benefits. Qualities like thicker tubes for added strength, beefy u-joints to handle more torque, improved exhaust clearance, and high-quality steel all offer a true advantage on the trail. To enjoy all these benefits and more, a reliable recommendation is any driveshaft from the line of Spicer performance driveshafts from Dana, created for the Jeep Wrangler JK and JL and the Jeep Gladiator JT. Each driveshaft is a direct bolt-in solution that delivers improved ruggedness and durability and is precisely engineered for lifted applications and the requirements of high horsepower and torque.
While it's not the most glamorous modification, upgrading to a high-performance driveshaft is crucial to maintaining the strength, safety, and durability of an off-roading vehicle with a lift kit or larger tires. It's an improvement that is essential to keeping customers' Jeeps traveling down any challenging trail and crawling over every obstacle.