Features
Understanding the Burgeoning Powersports Market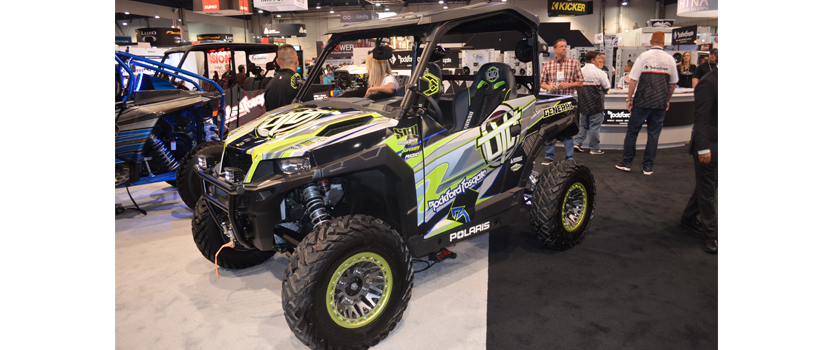 EDITOR'S NOTE: The following article excerpt from the upcoming July issue-mailing soon-is part of a three-part series investigating the burgeoning powersports market and its connections with the automotive aftermarket. See Part I in the May 2018 issue of THE SHOP magazine, and Part II in the June 2018 issue.
The powersports market has exploded in recent years, with side-by-side (SSV) vehicles leading the charge. Global Market Insights forecasts the all-terrain vehicle market at large to surpass $8 billion by 2024, with North America projected to cross the $4 billion milestone during the same period.
We stated in Part I of this article that UTV multipurpose, UTV work and UTV sport vehicles are driving the growth in SSV sales, accounting for the top three segments across all of powersports.
Global Market Insights also expects growth in powersports machines that see "extensive usage in various terrains including agricultural lands, forestry and mountains."
The U.S will account for a major share of the market, owing to a prevalence of unpaved roads, large stretches of natural terrain and the number of farms/ranches across the country.
"(The) presence of major ATV manufacturers such as Polaris Industries, BRP and Arctic Cat will further support the region's dominance till 2024," Global Market Insights adds.
UTV sales have increased so much, so quickly that many industry professionals are reluctant to put a hard number on the segment's long-term growth-although they agree there's no slowdown in sight.
Recent interviews in connection to this feature produced answers like, "I don't think we've seen the top of it yet," or "The sky is the limit," or (a personal favorite), "Well, there's no need to launch a $30,000 recreational vehicle if the market can't support its life cycle…"
Aaron McWhorter, owner of Grapevine Powersports in the Dallas/Fort Worth area says they're so busy that "at the moment the store's 6,000-square-foot showroom floor is so jampacked with units that there's no room for pre-owned inventory."
Furthermore, since our first article in May, Polaris Industries Inc. reported first-quarter 2018 sales of $1.297 million, which is up 12 percent from $1.154 million for the first quarter of 2017. An impressive jumpstart to an awfully large $8 billion industry goal.
"We are fully prepared to build upon this early success and deliver solid growth for the full year. With the recent introduction of the all-new Ranger XP 1000 and the 72-inch RZR XP Turbo S, and a robust innovation pipeline, we are exceptionally well-positioned to bring more customers into Polaris dealers," says Scott Wine, chairman and chief executive officer at Polaris Industries.
The No. 2 spot holder, Honda, reported an annual consolidated sales revenue increase of 9.7 percent from the previous fiscal year, with fourth quarter profits up 12.3 percent.
Québec-based BRP Inc. has a powersports portfolio that includes big names like Ski-Doo and Lynx snowmobiles, Sea-Doo watercraft, Can-Am on- and off-road vehicles, Evinrude and Rotax marine propulsion systems, as well as Rotax engines for karts, motorcycles and recreational aircraft.
This year the company, which reported record revenues of an 8-percent increase, entered the trail SSV segment with the Can-Am Maverick trail model.
"Our plan was well-executed worldwide by our employees and yielded impressive results, in particular with our retail momentum that outpaced both the competition and the industries in all our markets," the company reports.
BRP's global market share for the Can-Am SSV has reached the No. 3 position, only seven years after its entry into the industry.
"We have also established a record year for accessory introductions, providing our consumers with the just-right parts, accessories and clothing, fully adapted and customized to their vehicle, to enhance their riding experience," the report adds.
The OEs continue to refine their offerings; powersports dealers are benefiting from healthy inventory turns on both the units themselves and traditional upgrades at the point of purchase; and the automotive aftermarket is eager to flex its underdog strength in a very promising market.
Continue reading this article when it mails to your shop!