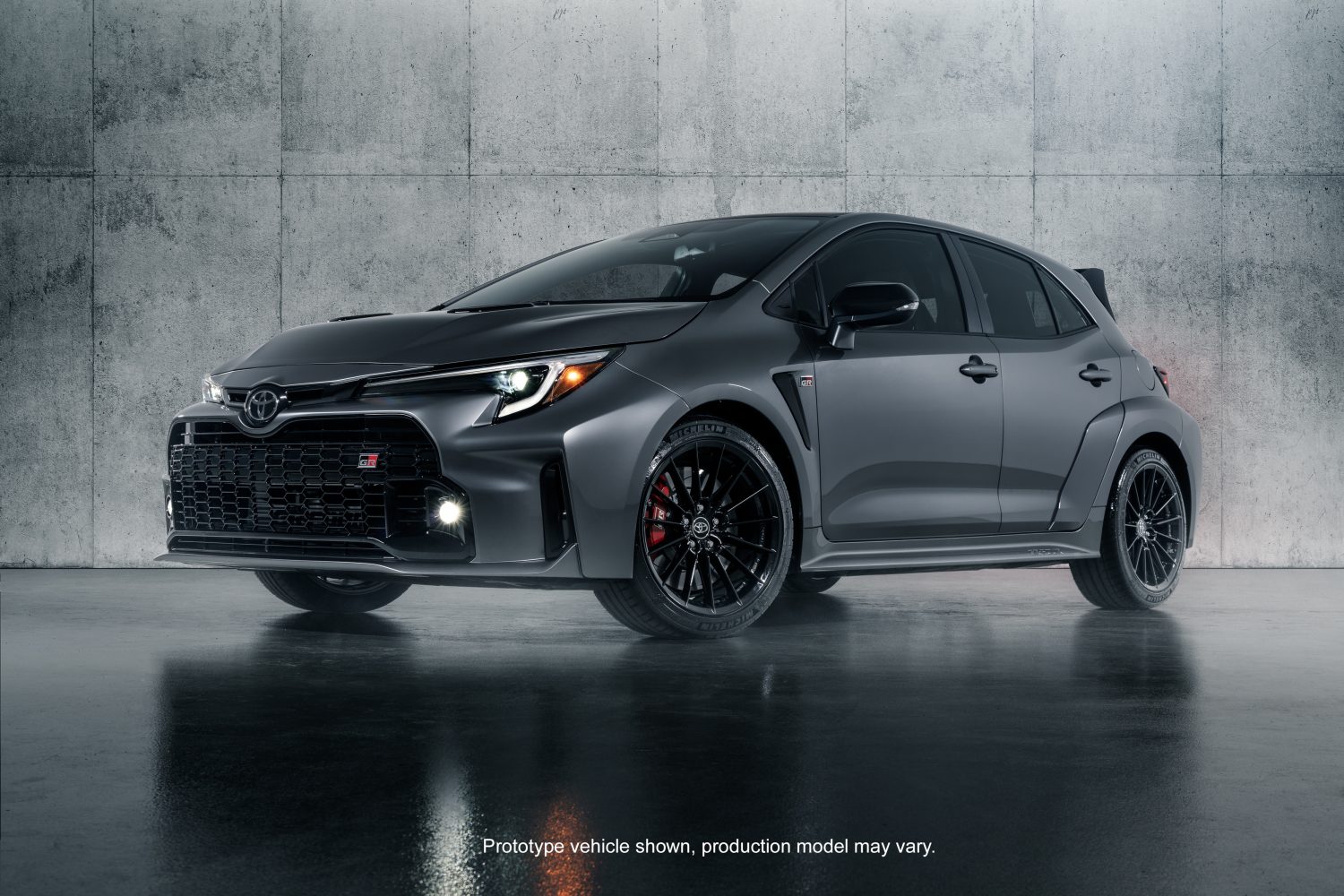 Toyota has debuted the 2023 GR Corolla, a performance-minded model built by the TOYOTA GAZOO Racing team, the automaker announced.
Powered by the G16E-GTS turbocharged, direct/port injected three-cylinder engine, GR Corolla delivers 300 hp and 273 lb.-ft. of torque and is engineered for snappy acceleration out of the corners, with output hitting peak torque at 3000-5500 rpm and max horsepower coming at 6500 rpm. Its power is piped through a unique triple exhaust that's designed to reduce backpressure for maximum power delivery.
The G16-E engine is paired with Toyota's rally-developed GR-Four All-Wheel-Drive (AWD) drivetrain. This system gives drivers a choice of 60-40, 50-50 or 30-70 power distribution to the front and rear wheels.
The GR Corolla will be offered exclusively in a manual transmission.
Its broad hatch profile and low center of gravity are built on Toyota's GA-C platform, with enhanced frame reinforcements developed specifically for GR Corolla at GR Factory at Toyota Motomachi plant. Functional exterior air vents and aerodynamic features further support steering stability.
GR Corolla will come in two grades, Core and Circuit Edition.
The Core Grade will be available later this year in white, black and Supersonic Red. It will have a color keyed roof with a black rear lip spoiler, GR-Four stamped side rockers and wide-fender flares. On the inside, seating for five will come with GR-logoed fabric sport seats.
The Circuit Edition will be a limited-run model available in 2023. Standard colors are white, Supersonic Red and Heavy Metal with the same GR-Four stamped side rockers and wide fenders as the Core. It adds a forged carbon fiber roof, vented bulge hood and a sporty rear spoiler, Brin Naub suede-trimmed sport seats with red accents and a launch-year-exclusive Morizo signed shift knob.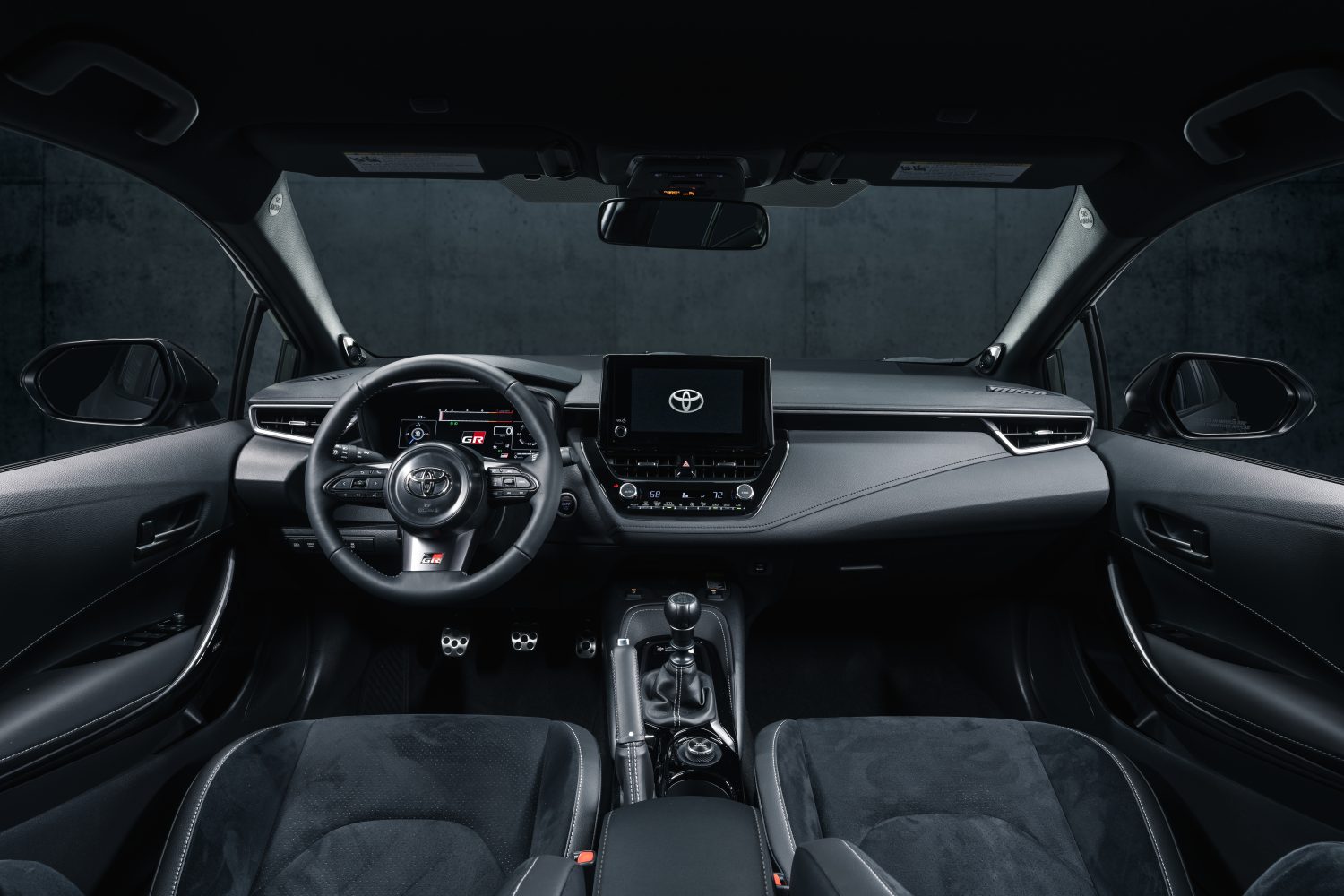 The GR Corolla will come equipped with the all-new touchscreen Toyota Audio Multimedia system.
New with the GR Corolla is the GR-FOUR All-Wheel-Drive system, Toyota's first sports all-wheel-drive system in over 20 years, the company said. Developed in collaboration with the TOYOTA GAZOO Racing World Rally Team and honed by WRC drivers, it is designed to optimize drive power to each wheel, while also being simple and lightweight.
Adjusted with a dial, GR Corolla can adjust four-wheel drive performance to fit the driver's needs. For everyday driving, you can set a front/rear torque distribution of 60:40; for a more sport setting, balance can shift to the rear, with 30:70 distribution for a fun-to-drive quality on winding roads and circuits; and for maximum stability a 50:50 setting can be used for fast, competitive track driving on circuits or special stages. In each mode, the torque balance will automatically adjust in response to the driver's inputs, vehicle behavior and road or track conditions, Toyota said.
The GR Corolla Circuit Edition is also equipped with front and rear Torsen Limited-Slip Differentials (LSD), which offer enhanced cornering performance and grip with control of left and right-hand drive torque distribution on the front and rear axles. Front and rear LSD is available as part of the Performance Package on the Core grade, with 4WD open differentials standard.
For the GR Corolla, Toyota used the same turbocharged G16E-GTS powerplant used in the GR Yaris and boosted its output, the company said. The three-cylinder engine has increased power and improved engine exhaust efficiency thanks to a 3-piece muffler with valve capped off with brushed stainless steel tips, reducing exhaust pressure and outside noise.
The G16E also benefits from multi-oil jet piston cooling, large-diameter exhaust valves and a part-machined intake port. Displacing 1,618 cubic centimeters, it produces a maximum power of 300 hp and 273 pound-feet of torque.
Compact and lightweight, the DOHC 12-valve engine features a single-scroll ball-bearing turbo that's matched to a 6-speed intelligent manual transmission (iMT) with rev-matching. The turbocharger is integrated in the exhaust manifold, reducing weight, while control of wastegate bypass gases is used to improve the catalyst's warm-up efficiency, the automaker said. Combustion is fed by Toyota's D-4S direct and port fuel injection system, which operates at high pressure for maximum fuel dispersion and efficiency.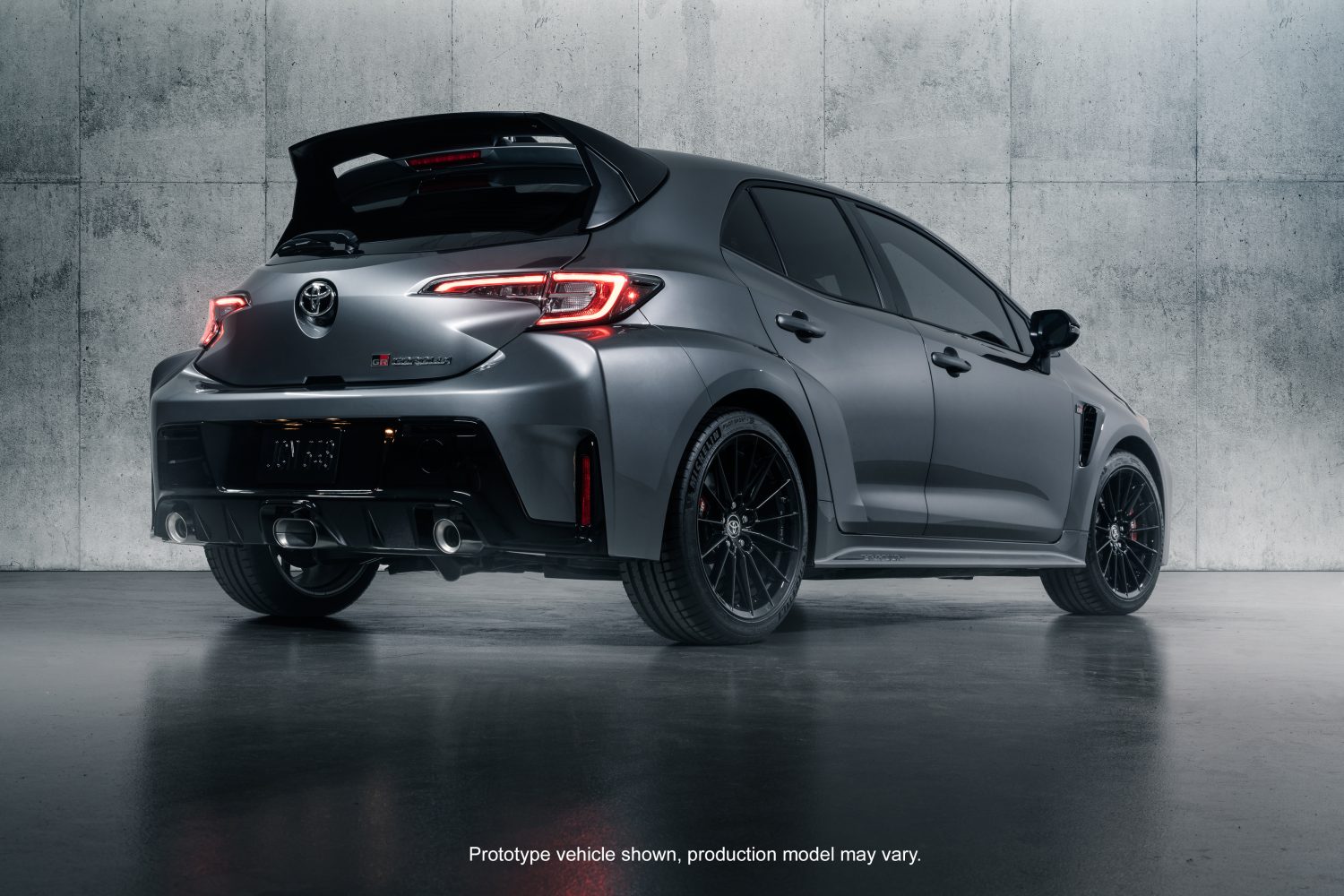 A MacPherson-type strut design made up of circuit-tuned coil springs, shock absorbers and stabilizer bars, the front suspension is designed to deliver all the engine's power to the road and provide optimum cornering capability on all surfaces, Toyota said. The rear suspension uses a double-wishbone type multilink system.
With a 103.9-inch long wheelbase, the GR Corolla wears Michelin Pilot Sport 4 tires 235/40R18 on both grades and comes equipped with 18-in. gloss-black 15-spoke cast alloy wheels. Braking power comes from opposed, fixed-caliper disc brakes with 14 x 1.1-inch ventilated and slotted rotors outfitted with 4-piston aluminum calipers on both grades. The Circuit Edition caliper is red painted with GR logo. At the rear, 11.7-in. x 0.7-in. ventilated rotors with 2-piston aluminum fixed-caliper disc brakes with red-painted calipers and GR logo are standard on the Circuit Edition.
Incorporating the feedback of professional drivers, a GR Full TFT meter was newly developed with a 12.3-inch color Multi-Information Display (MID) that has a GR meter with 4WD mode, turbo pressure, gear position indicator and tachometer. The shift lever has a shortened stroke for a quick throw between gears and is positioned where the driver's arm is naturally lowered from steering, designers said.
The Circuit Edition's interior is finished in black with red trim details around the door handles, center console, steering wheel and side air vents, and the Core Grade is finished with black and silver details.
Brin Naub suede and synthetic leather-trimmed sport seats with red stitching, red mesh inserts and GR badged headrests; 6-way adjustable driver's seat with seatback pocket; 4-way adjustable front passenger seat with seatback pocket are standard on the Circuit Edition. Fabric sport seats with gray stitching and GR badged headrests; 6-way adjustable driver's seat with suede sheet seatback pocket; 4-way adjustable front passenger seat with seatback pocket are standard on the Core.