Features
Top Restylers Perfetti and Poulson Take Reins of PRO Council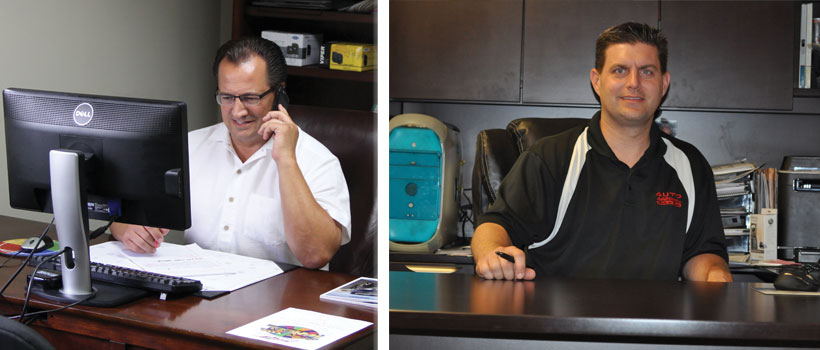 Dino Perfetti and Josh Poulson are now the chair and chair elect, respectively, of SEMA's Professional Restylers Organization (PRO) Council, effective July 1. Perfetti is the sales manager of Automotive Concepts in Minneapolis, and Poulson owns Auto Additions in Columbus, Ohio.
Perfetti and Automotive Concepts' owner John Prosser were recognized as the PRO Council Restyler of the Year in 2015. Poulson won the same award in 2014, as well as PRO Council Nat Danas Person of the Year in 2015.
Perfetti and Poulson also serve as members of the Restylers United business group, and are regular contributors to THE SHOP magazine where they share wisdom on a variety of business- and industry-related topics. Read Perfetti's latest article about how the LED market opened up many customization opportunities; and Poulson's July issue column about how establishing core values bolsters shops' overall wellbeing.
Outgoing PRO Council Chair, Ellen McKoy, plans to continue providing assistance to the council.
"Ellen really set the groundwork for future terms. Her leadership and passion for our industry over these past years have been invaluable to both the Council and our industry as a whole," Perfetti said.
In a letter to membership, McKoy wrote, "Being involved as a volunteer requires more work and commitment than simply joining a social club. But the rewards of seeing projects and initiatives-such as PRO's newly launched SEMA Accessory Sales Professional Certificate program-come to life and make an impact that benefits our industry is worth every minute." Click to read McKoy's full letter.
"Being a member of the PRO Council has been beneficial to our business, and we will continue to find ways to bring value to the membership," Poulson said. "I encourage every shop to join a council and reap those benefits. For only $50 a year, and beyond all the programs and initiatives available to members, the networking and sharing of ideas, challenges and experiences is worth far more than the membership fee."
The PRO Council has added seven new industry professionals to its select committee: Colby McLaughlin, Trim Illusion; Joey Johnston, Top and Trends; Lucas Frank, Brandmotion; Kevin Gillis, Integrity Customs; Rod Bennett, Chrome Enhancements; Jay Ehret, Pickup Outfitters; and Christina Jorge, Specialty Automotive Treatments. Returning incumbents include Eric Holmes, Eastman Chemical Co.; Kevin Taddeo, Reynolds & Reynolds; and Donna Wagner, Northwood University.
Visit sema.org/councils-networks or more information about SEMA councils and how to get involved.