Features
Three Ways Shops Are Countering DIY Steel Bumper Demand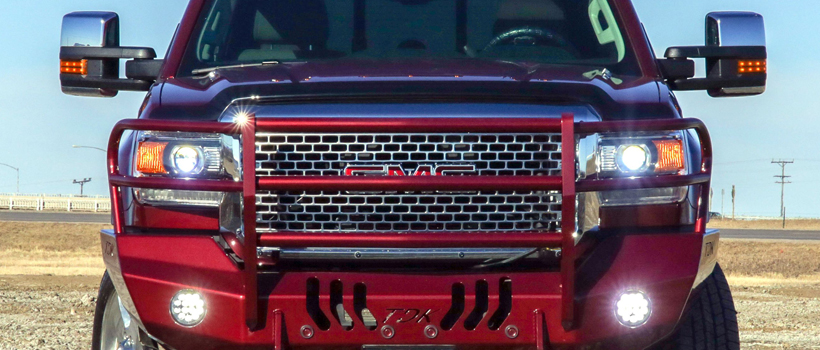 With the increasing popularity of DIY steel bumper kits, many consumers are rejecting pre-made steel bumpers and buying DIY kits instead. Consumers are attracted to these DIY bumper kits for three main reasons:
DIY bumper kits are sold at a lower price than pre-made steel bumpers
DIY bumpers are more customizable than most pre-made steel bumpers
Most consumers don't understand the risks and challenges of welding together their own bumper
About This Sponsored Content
Throttle Down Kustoms designs, engineers, and builds its bumpers, frames, skid plates, and accessories in-house in Moore, Montana. All its products are made from laser-cut solid steel and hand-welded by certified, trained professionals.
For more information about Throttle Down Kustoms and its dealer program, be sure to visit the company's website.
To counter the increasing popularity of DIY kits, many truck and off-road shops are working with Throttle Down Kustoms, a custom steel bumper manufacturer. Here's what these shops are doing to sell against DIY bumper kits:
1.    Offer A Customizable Bumper Option
"All of the shops in our dealer program say the same thing-consumers want something unique," said Jeremy Pulse, founder of Throttle Down Kustoms. According to Pulse, shops that offer customizable bumpers are often able to convince consumers to skip the DIY hassle.
The trick, according to Pulse, is to give every customer the option to configure their own bumper. Throttle Down Kustoms offers bumpers with or without grille guards, different lighting and winch configurations, customizable inserts from different materials, and even different finishes.
"Believe it or not, a paintable bumper finish is a really big deal to a lot of vehicle owners," Pulse said. "Painting a bumper is one of the best ways to differentiate, as nearly every bumper on the road is black powder coat."
2.    Talk To The Consumer About Welding
While many consumers have surprising amounts of fabrication skill, most are not capable of welding a good quality steel bumper together. This is because competent welding requires equipment, training, and experience.
According to Pulse, shops that convince customers to avoid the DIY bumper route usually talk to them about the tools and equipment they have, what they'll need to buy, their experience, and their free time.
"The key is to be non-confrontational-just ask questions," Pulse said. "Most people will start to have doubts about building their own bumper if you can get them thinking about the entire build process."
3.   Talk About Bumpers As Safety Equipment
DIY bumper consumers, according to Pulse, don't always think about bumpers as vital safety equipment.
"A strong, well-built bumper prevents expensive vehicle damage in even a minor collision," he said. "Consumers don't always think about this fact, so mentioning it a couple of times usually gets the customer's wheels turning.
"If your vehicle's bumper's aren't properly reinforced, if the welds holding it together are weak, or if the bumper isn't properly protected from corrosion, the bumper can fail at the moment of impact," Pulse added. "A cheap DIY bumper that collapses in a collision doesn't save anyone money."
The Lesson?
Many consumers choose to build their own steel bumper because they want to differentiate their vehicle. By offering custom, made-to-order steel bumpers, truck accessory retailers and off-road shops can retain sales they might have otherwise lost. Likewise, most consumers lack the equipment, aptitude, and time to build their own steel bumper.
"There are two fundamental rules in the steel bumper market," Pulse said. "First, every consumer wants their vehicle to look different. Second, welding is hard. Shops that offer custom bumpers like ours are always going to have a way to sell against these DIY kits."