Features
The Why and What of Jeep Ball Joint Upgrades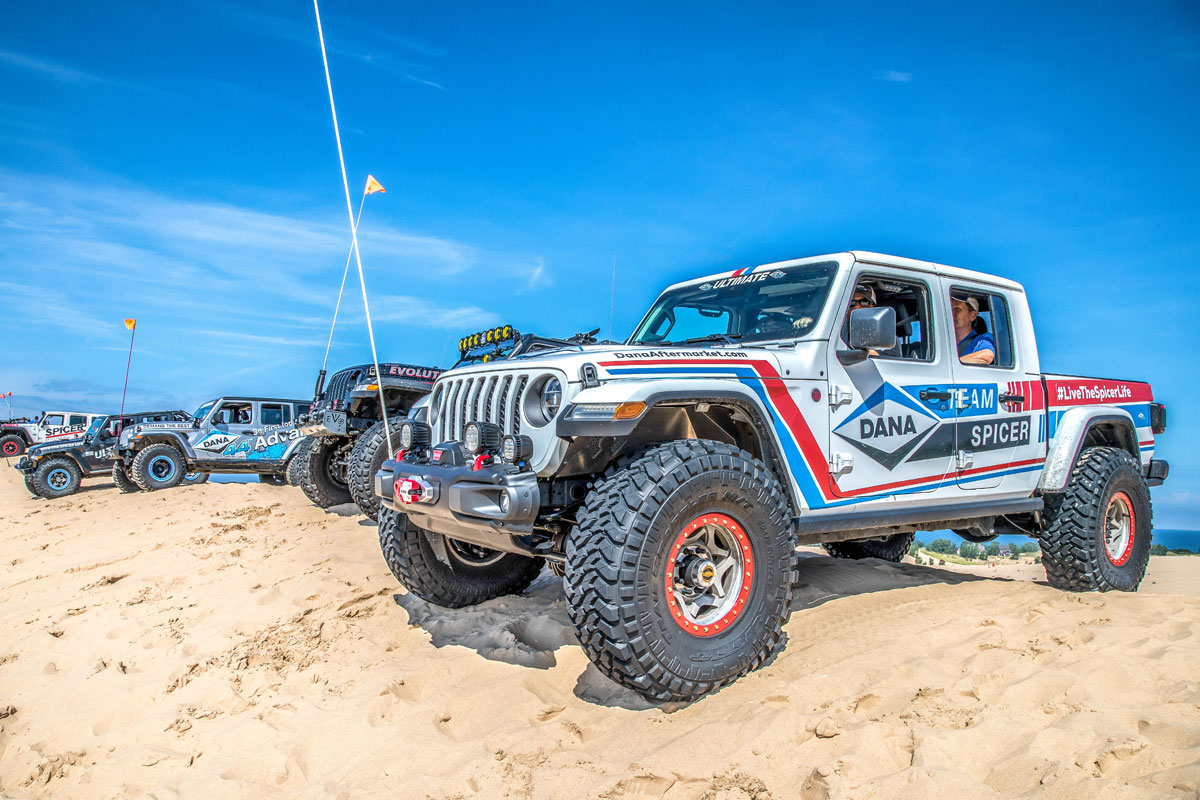 When a Jeep rolls into the shop with an unexplained clunking noise or steering that feels "loose," and the effects of serious off-roading are written all over the paint job, it may be fairly easy to guess at the issue: ball joint wear. Aggressive off-roading, modifications and limitations of the original equipment part design can all contribute to the failure of this component in the Jeep JK, JL and JT. Upgrading to a heavy-duty ball joint will help ensure extended part life and avoid uneven tire wear.
---
About This Sponsored Content
For customers seeking optimum performance, aftermarket upgrade parts offered by the Dana and Spicer brands are a reliable choice. Dana Aftermarket parts are designed, engineered, and manufactured to meet the strict standards established for OE car companies because Dana is an OE manufacturer. In terms of the Jeep brand, Dana has served as the OE driveline supplier since the Jeep began in 1941.
---
Ball joints act as a pivot, allowing the vehicle's wheels and the suspension system to move in tandem. They connect the steering knuckles to the control arms and allow for smooth, dependable control of the suspension system when the steering wheel is turned. Worn or failing ball joints should never be ignored, as they critically influence steering capabilities, and total part failure can have catastrophic outcomes in terms of the vehicle itself.
There are a number of reasons that ball joints may fail in a Jeep Wrangler JK or JL or Gladiator JT. Off-roading—which means uneven trails and a heightened chance of introducing debris inside—can take a huge toll on ball joints. Popular modifications such as switching to bigger tires or lifting a Jeep more than 2 inches can generate excessive stress on the vehicle joints and cause premature ball joint wear. Finally, there is the original equipment (OE) design to consider. It features a plastic liner that is prone to wear and corrosion from grease exposure. And, the OE part does not allow for the addition of grease. The lubrication inside the ball joint is susceptible to contamination from water, dirt, and other debris, yet the part is not serviceable.
With all the stress placed on ball joints, it's a good idea to have your customer consider the higher-quality options when selecting a replacement. For Jeeps with improvements such as larger wheels, or if an owner takes their Jeep off-roading on a regular basis, they're going to need a heavy-duty ball joint to ensure that wheel alignment stays true. For a significant upgrade to the OE part, look for a performance ball joint designed with metal-on-metal construction; this provides increased resistance to stressors like deflection and deformation. Another huge selling point is a part with a grease zerk to input fresh lubricant and purge contaminants, thereby extending ball joint life.
For an option that covers all of the above and is offered as a complete kit, there is the Spicer performance ball joint kit for the Jeep Wrangler JK and for the Wrangler JL or Gladiator JT. The kit features everything needed to service the front left or front right, including nuts, cotter pins, and one upper and one lower ball joint. Backed by Dana and carrying the Spicer name, it will help ensure that owners get all the rugged performance they demand from their Jeeps.
If ball joint wear is suspected, it should be inspected as soon as possible. Since this part will likely deteriorate over time and not last the life of a vehicle, go for an aftermarket replacement part that can be the last replacement. Choose a performance-driven ball joint kit that includes a grease zerk for extended life and serviceability, and that features metal-on-metal construction for peace of mind off-road.