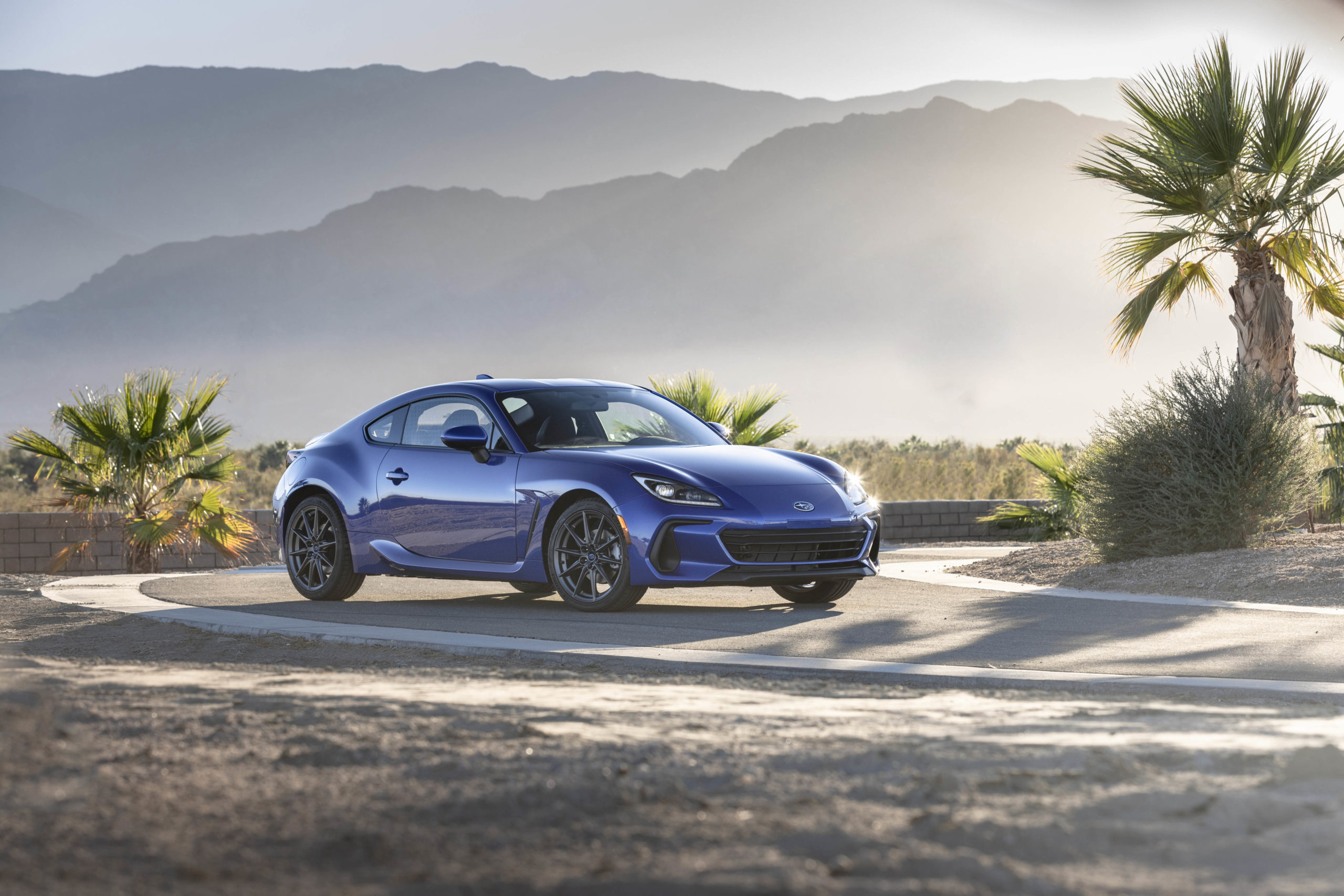 Subaru recently revealed the all-new, rear-wheel-drive 2022 Subaru BRZ sports car at the Thermal Club Raceway in Thermal, California. Subaru developed the all-new BRZ with the same fundamentals of sports car design that were used to create the original: low vehicle weight, an ultra-low center of gravity with precision steering and handling in a "2+2" package, Subaru says, but for the 2022 model year, the BRZ features more power, better handling, improved styling, a 50-percent increase in torsional stiffness and a modern interior.
The all-new BRZ features a new and more powerful 228-horsepower 2.4-liter horizontally opposed engine. Sitting low in the chassis, the Subaru BOXER's unique design allows the BRZ to achieve a Center of Gravity (CoG) even lower than the previous BRZ. The 2.4-liter naturally aspirated engine redlines at 7,000 RPM and delivers a 15-percent increase in torque. The 2022 BRZ will be offered in both Premium and Limited trims and is available with two transmission choices; a standard six-speed manual or an available six-speed automatic with a new Sport mode designed for more aggressive driving. The new Sport mode allows for more rapid downshifts with automatic throttle blipping and utilizes yaw sensors to hold the transmission in a lower gear during hard cornering to maximize performance.
The 2+2 seating and folding rear seats create a cargo area that has space for carrying a mountain bike, golf clubs, or even four race tires and tools for track days. Utilizing aluminum for the roof, front fenders and hood, the 2022 Subaru BRZ has an estimated curb weight of just under 2,900 lbs.
The coupe design is just over an inch longer and almost half an inch lower than its predecessor, resulting in a low and wide frontal area set off by large functional air intakes. The grille is set low and is capped by fender arches that allow just enough room for suspension points. A narrowed greenhouse accentuates the fender flares and the roofline features a subtle "double bubble" appearance, a nod to vintage racing cars.
The design flows into the front fenders with a large side vent. The functional side vent reduces drag by ducting air from under the hood and fenders. The released air is directed to a side sill spoiler that creates downforce at speed.  A small fin at the back of the rear-wheel arch also assists in airflow adding stability at speed. At the rear of the car, the large rear fenders and wider track flow into dual exhausts for a low and wide stance. This visual heft is lightened by a narrower greenhouse and rear hatch which flow into an upturned "ducktail" rear spoiler.
For 2022, the Subaru BRZ features a new interior, including a new customizable 7-inch digital dashboard with the tachometer front and center and an integrated digital speedometer readout. To the left of the tachometer is a programmable meter that can change to show amps, water temperature or a g-meter. When the BRZ is placed in track mode, the tachometer automatically shifts to a linear graph with a color display that allows for a quick read.
The overall cabin design is contemporary and modular with improved driver amenities. The 8-inch infotainment touch screen takes precedence in the center stack and features the latest SUBARU STARLINK multimedia systems, including standard smartphone integration with Apple CarPlay and Android  Auto, as well as Bluetooth hands-free phone connectivity and audio streaming, rear vision camera and SiriusXM services. Limited trims feature telematics and vehicles equipped with the six-speed automatic transmission also feature Subaru's EyeSight Driver Assist Technology.
In keeping with its sports car dynamics, the BRZ seating position is low but features excellent sightlines due to use of high-strength steel in the A, B and C -pillars, keeping them thin but strong. Contoured bucket seats provide support and are enhanced with red detail stitching.
Featuring a bespoke chassis, the BRZ takes full advantage of its ultra-low center of gravity and high-strength body structure. With a 101.4-inch wheelbase and weight distribution, the 2022 Subaru BRZ is nimble and easy to control, Subaru says. The front suspension uses struts and coil springs to keep weight low. Using design elements from the Subaru Global Platform, the chassis has gained rigidity through a reinforced chassis mounting system, sub-frame architecture and other connection points. Front lateral bending rigidity has been increased by 60-percent for the 2022 model to improve turn-in and response. The front suspension features custom-designed MacPherson-type struts to optimize the low hood line while retaining a long stroke for ideal handling and ride quality. The double-wishbone rear suspension system provides bump absorption to enhance tire grip over varied surfaces.
For track driving, the standard Vehicle Stability Control (VSC) traction and stability system offers the driver five different settings. The system has been redesigned to allow more input from the driver before it activates the traction system. The system can be turned completely off to put the driver in full control.
Production of the Subaru BRZ will be at Subaru's Gunma, Japan assembly plant. The BRZ will go on sale early fall of 2021.