Features
Steve Saleen Brings Back S7 Supercar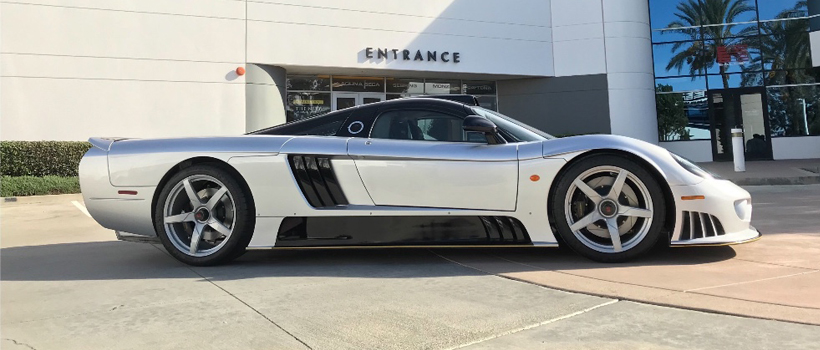 Saleen Automotive Inc. revealed its 1,300-horsepower Saleen S7 Le Mans (LM) Edition at the recent LA Auto Show.
The S7R race version has won at every major racetrack in the world, including Daytona, Sebring, Nurburgring, and the prestigious 24 Hours of Le Mans. The S7 LM Edition commemorates that seven-year run of consecutive racing victories of its Saleen S7 Supercar. The S7 street version has also starred in several Hollywood blockbusters, including being driven by God in Bruce Almighty.
Steve Saleen previously announced the planned build of this supercar. The car unveiled at the recent LA Auto Show is the fulfillment of the first of the special edition S7 LMs.
"True to our form, we are bringing back America's only true supercar," said Steve Saleen, CEO of Saleen Automotive. "We are celebrating our winning heritage and advancing the performance DNA that Saleen was built around."
A 7-liter twin-turbo engine rated at 1,300 horsepower powers the new S7 LM supercar. Each one will be hand built at Saleen's Corona, California, headquarters. The S7 LM's transmission is a longitudinal, six-speed all synchromesh with limited-slip differential. It also has a metallic clutch with 8-inch twin-disc hydraulic actuation bow-through uprights.
The S7 LM has an all-new, exclusive black and silver paint scheme with clear-coated carbon fiber. It will ride on Saleen forged, five-spoke, Le Mans-style wheel design equipped with center locking wheel nuts with automatic safety locks. Fronts are sized at 19-by-9.5 inches with rears at 20-by-12-inches. These wheels will be shod with high-performance tires: 275/30/ZR19 front and 335/30/ZR20 rears.
The chassis is made using a 4130 Lightweight Steel Space frame with Honeycomb Composite panels. The S7 LM has advanced wind tunnel-developed aerodynamics, including integrated split-channel airflow throughout the car, full underside aerodynamics, advanced-design front tray and side skirts, full-body-width rear spoiler, and heat-rejecting tinted glass.
The S7 LM is well equipped with safety features including, but not limited to, integrated roll protection, aluminum honeycomb impact-absorbing panels, three-point seat belts with automatic pre-tensioner, and aluminum honeycomb front crush structure with integrated rear crumple zones.
Interior convenience and comfort treatments feature a high-volume flow-through ventilation system, A/C, rear view video camera with interior LCD display, 240 MPH speedometer, race-inspired central-mounted digital tachometer with S7R-style shift lights, fully adjustable tilt and telescoping steering column, power windows and door locks, keyless remote for doors and rear trunk, variable intermittent windshield wipers, electric heated front windshield, remote engine hatch and fuel filler door releases, and the latest in sound systems.
Standard interior trim includes black Alcantera with multi-tone leather and suede. The S7 LM also is equipped with performance sport seating, aluminum and color accents, custom-fitted driver seating position, and a dual leather and Alcantera suede steering wheel.
The Saleen S7 LM is priced at $1 million, with just seven planned for production.