Features
SO-CAL at 75: 'Tanks' for the Memories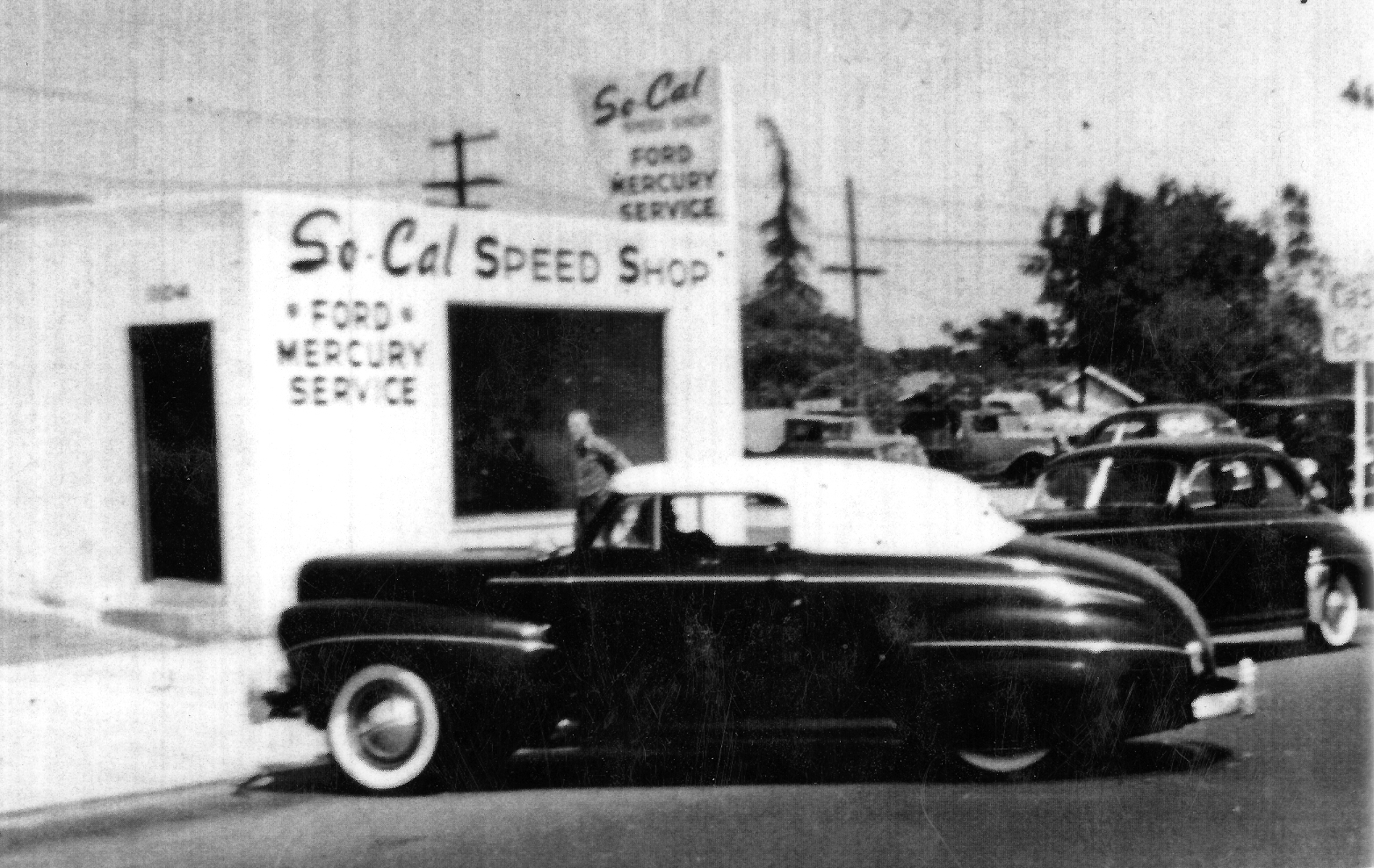 To steal a line from the Grateful Dead, "what a long, strange trip it's been."
I am, of course, talking about the So-Cal Speed Shop, established in 1946 by Alex Xydias with $100 borrowed from his mom. Alex had no experience in the performance business and certainly no marketing degree. However, he had an innate savvy about how things worked, especially the adage: 'win on Sunday, sell on Monday." Soon, the So-Cal Team was cleaning up at the lakes and then the drags with a fleet of distinctive red and white racecars.
Alex pedaled it until 1963 when he closed shop and went to work for Petersen Publishing, where he edited Car Craft magazine before Hot Rod Industry News. His editorship led directly to the directorship of the industry trade shows that eventually became the SEMA Show.
Although they remained great friends, Alex parted ways with Petersen and partnered with the late Mickey Thompson in the formation of the SCORE Off-Road Shows. Their partnership endured until the untimely murder of Mickey and his wife on March 16, 1988. Alex more or less retired but continued to commemorate the So-Cal Speed Shop with catalog reprints, reunions and licensing of the So-Cal belly tank lakester. It was a smart thing to do, as it turned out.
Meanwhile, east on the 210 Freeway, in the town of Temple City, two young hot rodders came together in 1973 and formed Pete and Jake's Hot Rod Parts. Pete Chapouris and Jim 'Jake' Jacobs were hugely successful, and with Pete's '34 Coupe starring in a Made for TV Movie of the Week "The California Kid," their small company was on the map, well, and on TV. Stars such as Jeff Beck and Billy F Gibbons of ZZ Top had Pete and Jake's chassis. There was even one under the famed Eliminator.
In 1986, Pete and Jake's was sold to Jerry Slover and remains in business. Jake went to his home shop while Pete became VP of Marketing at SEMA, where he discovered he preferred a bench to a desk and was soon building and restoring historic hot rods. One such restoration was the famed Pierson Bros. Coupe for collector Bruce Meyer.
When the Coupe was done, Bruce asked, "What next?" Pete suggested they find the So-Cal belly Tank lakester—one of the most famous lakes racing hot rods of all time. They found it, almost complete, in the rafters of Don Ferguson's loft where it had gathered dust for 40 years. The restoration would be fortuitous.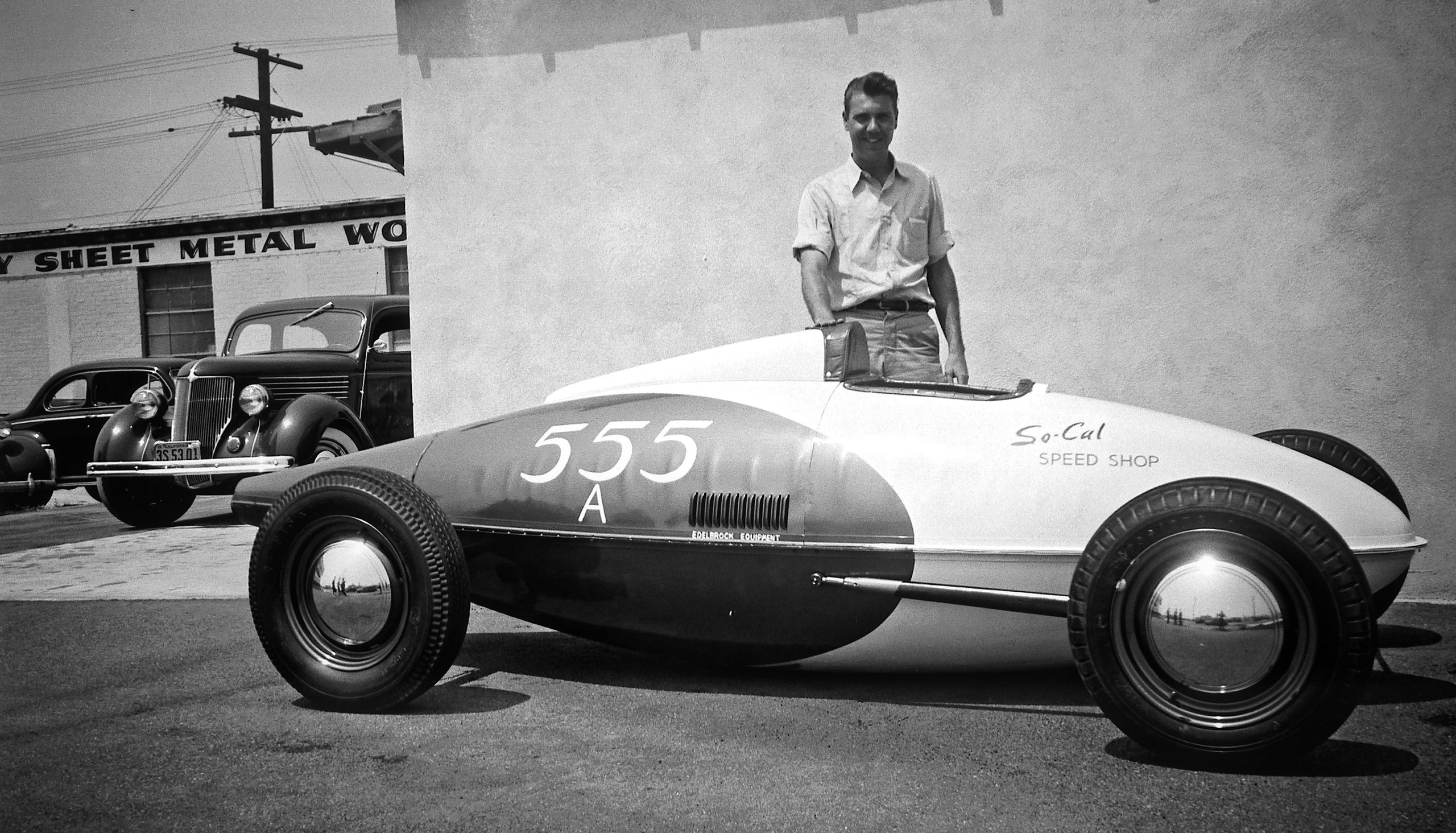 Pete decided to get serious about business and opened PC3g in Pomona, California, but people struggled with the name and what it meant. Looking for a new identity, Pete had a nocturnal epiphany and called Alex about licensing the So-Cal name. Because Alex has always protected the name, an agreement was easily drawn up and on October 6, 1997 the new, upper case SO-CAL Speed Shop was born.
Right time, right place, and SO-CAL took off like a dragster. Hot rodders were ready for an alternative to the high-priced Boyd Coddington-style smoothsters. They wanted something more traditional and SO-CAL built cool, traditional, somewhat affordable cars. The cars lead directly to a catalog of parts that, when they returned to their lakes racing roots, could be advertised as 'Hot Rod Parts Tested at 200 MPH.' There were not many competitors who could honestly say the same.
In quick order, SO-CAL boomed; franchises were sold and six or seven SO-CAL's opened up across the country. The phone never stopped ringing and eventually, OEMs such as MG and GM came calling for a fleet of record-setting SO-CAL land speed cars. In the first half of the 2000s, SO-CAL it appeared could do no wrong. There were museum exhibits, TV shows, wins at the Pebble Beach Historic Concours D'Elegance, invites to the Goodwood Festival of Speed and magazine ink up the ying-yang.
Unfortunately, two things happened: the hobby/industry/market began to take its regular 10-year shift and rodders looked even further back in history for ever-more traditional rods, while rat rods took the stage. Meanwhile, Pete, who abhorred the ratty look, began to experience some health issues that eventually took him on Jan. 16, 2017.
Without Pete's visionary leadership, the company floundered for several years until recently, when Pete's family was able to acquire the business on its 75th anniversary. Although primarily Internet-based, SO-CAL does have a physical location but will have moved by the time you read this. Needless-to-say, check them out online at So-CalSpeedShop.com.
Alex, bless him, just celebrated his 99th birthday and remains as sharp as the day he opened the first So-Cal Speed Shop in 1946.