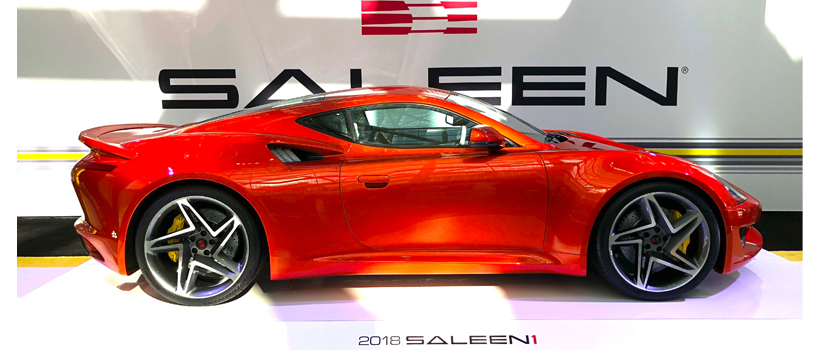 Saleen Automotive Inc. plans to finish its first Saleen 1 this fall. The two-seater, mid-engine sports car was introduced at the LA Auto Show last year.
The Saleen 1 features a 2.5-liter, inline four, high output, turbocharged, Saleen-designed engine that generates 450 horsepower and 350 lb-ft of torque and a top speed of 180 mph. It will be standard with a six-speed manual transmission with optional paddle-shifter automatic to be offered at a later date.
The aluminum tub and carbon fiber body of the Saleen 1 weighs 2,685 pounds. The combination of horsepower and weight creates a power-to-weight ratio that places Saleen 1 within the ranks of the high-performance elite, according to the company.
The Saleen 1, equipped with independent wishbone suspension, will ride on wide wheels shod in 255/30/ZR20 front and 335/25/ZR20 rear Continental Tires, achieving 1.2Gs on the skid pad. The 15-inch calipers and rotors, front and rear, provide ultimate stopping power. The front to rear weight bias is perfectly balanced at 42F/58R.
The Saleen 1 interior is constructed to deliver optimum control, safety, and comfort, according to the company.
With bold racing-inspired instrumentation, the luxury of high-end leathers and suede, and use of Alcantera throughout the interior cabin, the car holds true to its supercar heritage. Amenities such as the latest electronic connectivity, Sirius radio, and Apple Play wrapped in a six-speaker sound system are meant to enhance the riding experience, according to Saleen.
Subtle storage includes cup holders, door panel pockets, compartments in the console and behind the seats, an alcove in the center stack, and front suitcase storage.
Production of Saleen 1 is taking place at Saleen's Corona, California, location. With a planned annual production run of 1,500 Saleen 1 models, the car will be available in Saleen's 12 colors, including Tire Smoke Pearl White, Lizstick Red (Candy Apple Red), and Beryllium (Copper).
The car runs a cool $100,000, with a $1,000 deposit required to secure an order, according to Saleen.
The genesis of the Saleen 1 began with JSAT purchasing the tooling and remnants of the Artega GT. JSAT asked Steve Saleen to assist in modernizing the Artega GT for today's sophisticated consumer. In reality, such an update was not feasible, according to Saleen, which resulted in a new vehicle being designed and built from scratch.
The JSAT factory will eventually assume responsibility for an entirely new line of Saleen vehicles, including the Saleen 1. Additionally, sales, marketing, distribution, service, and warranty-related activities relating to the Saleen 1 in the U.S. will be handled domestically.