Features
Safety Gear Saves Driver in 241-mph Ice Racer Crash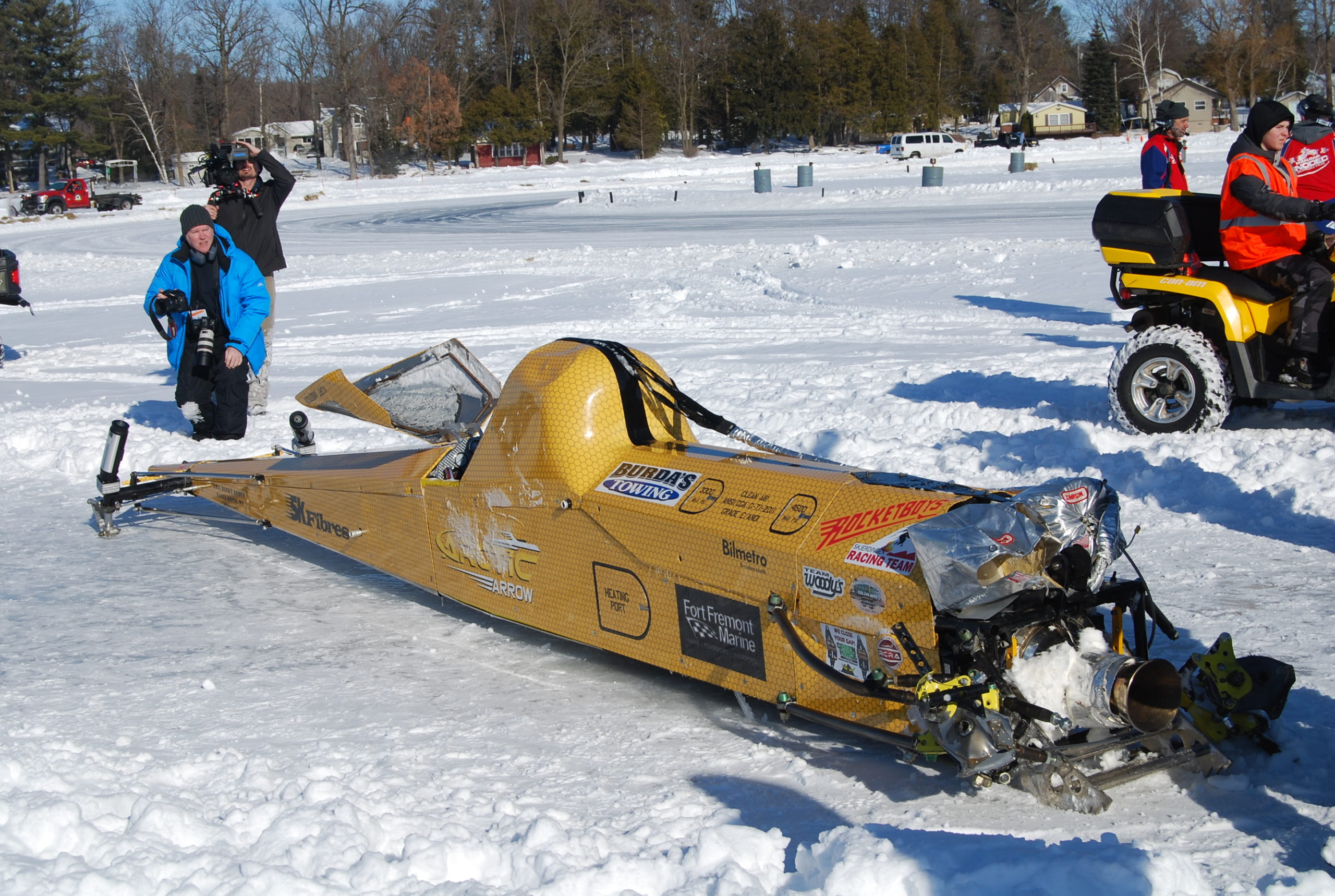 Everyone into racing has heard about NASCAR driver Ryan Newman's crash near the end of the Daytona 500 on Monday, Feb. 17. Newman was leading the Great American Race until he lost control of his car after contact from behind with Ryan Blaney's car. Newman's car went sideways, hit the outside wall head-on and got airborne. After flipping over in the air, the car came back to earth and was hit by Corey LaJoie's car. That sent Newman's car skidding down the track on its roof, on fire, before it came to rest past the end of pit road. Newman survived and motorsports writers credited his safety gear.
Ice racer Kurt Anderson also credited his safety gear with saving his life one day before Newman's crash. On Feb. 16, Anderson went sideways and barrel rolled in his streamlined ice racer the 'Artic Arrow' while traveling 241 mph on a frozen Wisconsin lake. He was on the second of four runs while attempting to break the World Land Speed Record on ice and walked away from the accident. Anderson had equipped the vehicle with all the latest safety equipment.
The Artic Arrow's safety features included a driver compartment built to SFI 2.3Q specifications, ISP roll cage padding, a 5-point impact harness, an EIS poured form seat, a Hybrid X head and neck restraint, a 3-point high-pressure safety relief system, primary and secondary fuel shut off systems and cockpit arming and disarming controls.
Anderson, 60, from Orono, Minnesota, was shooting to top the 247.93-mph record during the 2020 Snodeo, an annual winter event held in Manawa, Wisconsin. He was on his way to breaking the mark set in 1981 by the late "Slam'n Sammy" Miller at Lake George, New York, when the Artic Arrow slid sideways, hit a flag (without damaging it) and barrel rolled. Onlookers anticipated the worst, but within an hour, Anderson was walking upright and talking to the media. He promised the press he'd be back in the future.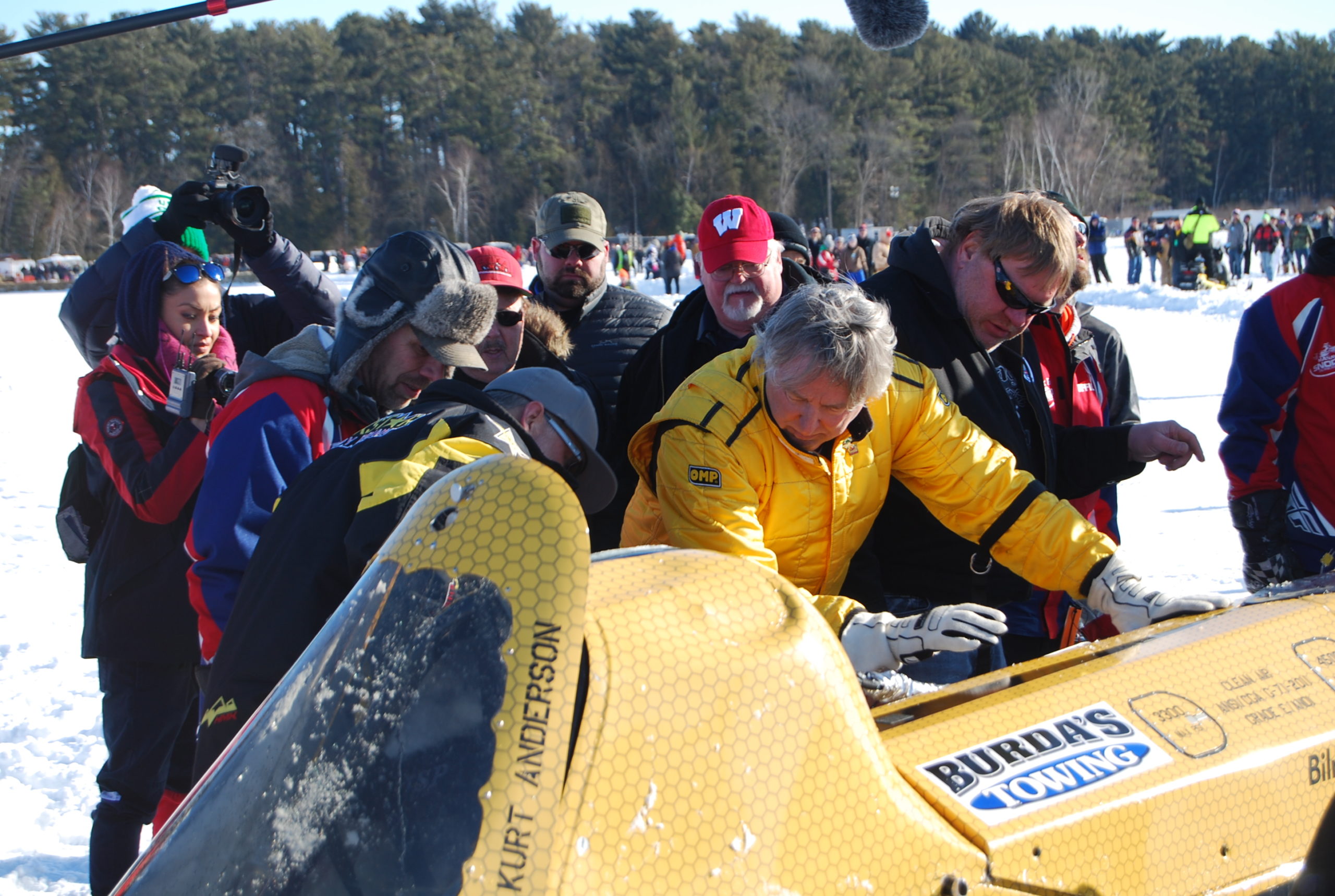 After being up-righted, the body of the long, narrow, jet-powered machine looked relatively good, except for a dent at the top of the driver's compartment, but the front and rear suspensions (fitted with skis for the ice run) were heavily damaged, as was the rear-mounted engine. Anderson guessed that the Artic Arrow was a total loss.
Anderson—a semi-retired Internet Services provider–started racing in the NHRA Heritage Drag Racing Series. Ky Michaelson introduced him to rocket-powered race cars. Kurt and a small team of fabricators rebuilt and updated the Arctic Arrow, which was first built in 1974, for the single purpose of bettering the World Speed Record on Ice.
The shiny gold, 1,510-lb. rocket-powered snow machine can be set up to run on skis or on wheels. It has been raced previously in Sweden and tested in Minnesota.
The Artic Arrow is 25-ft. long, six inches wide in front and 72 inches wide at the rear. It uses a 5000-lb. thrust HTP rocket motor. Fuel is a pressurized 90 percent Hydrogen Peroxide mixture called HTP (high test peroxide). A chemical reaction converts the Hydrogen Peroxide into water and oxygen, creating steam and a memorable start.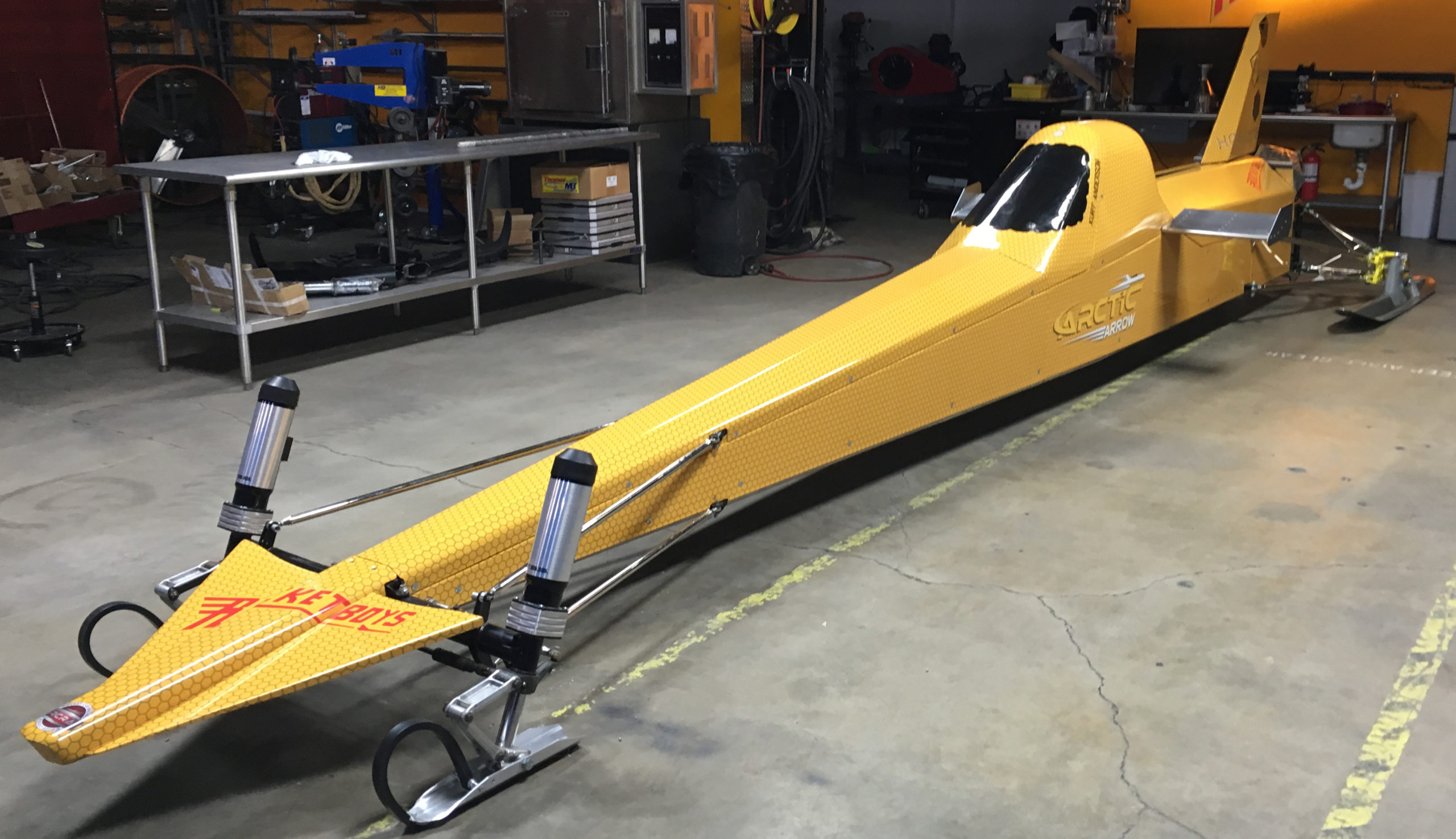 Anderson and Byron Nelson rebuilt the car's chassis and roll cage. The front suspension utilizes 1997 Yamaha V-Max snowmobile struts. The hardtail rear suspension is custom built. Stiletto rack-and-pinion steering has a 15:1 turn ratio. The front independent suspension uses 14-in. Drag Ski skis. Areoski MI500 skis are used in back. A pair of Simpson 12-in. Crossforn drag chutes and a pneumatic ice claw stop the car. Anderson told reporters he was unsure if he hit the pedal to release the chutes.