Features
REPORT: Five Rapidly Appreciating Collector SUVs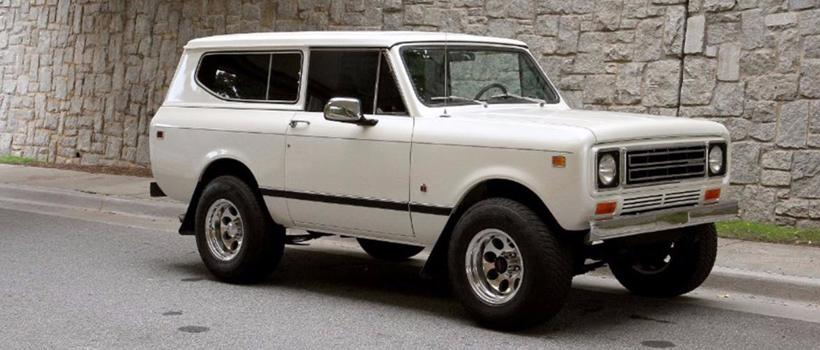 The experts at ClassicCars.com have identified a selection of affordable domestics and imports that are also earmarked as future collectibles.
The site's new Want This/Get That list features a selection of vehicles that are certain to address the desires, needs and, most importantly, passions of enthusiasts and collectors.  SUVs picked as Get That recommendations represent viable alternatives to their more expensive Want This counterparts, according to ClassicCars.com.
"Historically, trucks and SUVs aren't commonly considered when collections are being assembled," said Andy Reid, ClassicCars.com's East Coast editor and analyst. "Recently, we've seen an upsurge in interest, accompanied by rising prices.  Vehicles like the ones we have selected aren't only great value, they are also exceptional choices."
Want This? Get That!
Those shopping for a Toyota Land Cruiser FJ40 or 1966-'77 Ford Bronco should perhaps consider at 1971-'80 International Harvester Scout II, according to ClassicCars.com.
"This SUV is in particularly high-demand, and is at a good value point right now, especially for a vehicle that hasn't been manufactured in almost 40 years," Reid said. "We're seeing Scout II's go for anywhere from $15,000 to $28,000. We've noticed an upsurge in restoration activity, which attests to the strength of Scout's heritage and the interest it generates. With styling like an early Bronco, the Harvester Scout II is great value for a vintage SUV, and is a great alternative to any FJ40 or Bronco."
Want This? Get That!
For about $15,000, a Range Rover Classic is a more financially viable choice than the universally popular Land Rover Series 1 or Series 2, which typically will start at twice the price of a Classic. The quintessential Hollywood IT car that fictitious studio executive Griffin Mill drove in the popular 1992 film The Player, the Classic was, in fact, extremely popular among the Hollywood elite. Surprisingly, it was also a tremendously dependable off-road vehicle, according to ClassicCars.com.
Want This? Get That!
Shopping for a 1966-'73 Jeepster Commando? Why not consider a 1984-'91 Jeep Grand Wagoneer instead?
A Jeepster Commando cost as much as $45,000. At about one-third of the cost, a Jeep Grand Wagoneer is a great option, according to Reid.
"Wagoneer was the first true 'luxury SUV' offered by a domestic manufacturer," he said. "A precursor to the incredibly popular Cadillac Escalade, the Wagoneer was well-built, offered four-wheel drive, and came with options like leather interior, air conditioning, and power steering. It's truly an under-the-radar choice, but ideal for anyone who wants an abundance of options at a reasonable price."
Want This? Get That!
A 1960-'84 Toyota Land Cruiser FJ40 certainly would be a great addition to any car collection, but the 1980-'89 Toyota Land Cruiser J60 could be another good option.
For no more than $20,000, a Land Cruiser J60 offers true off-road capabilities in a luxury SUV that is equipped with leather seats, power windows and doors, and air conditioning, according to ClassicCars.com.
"It's a great selection, especially when compared with a Land Cruiser FJ40, which can set the buyer back from $40,000 to as much as $80,000," Reid said.
Want This? Get That!
For fans of the first-generation Ford Bronco (1966-'77), valuations starting at $40,000 may very well be too pricey. A more affordable option is another Ford model, the 1991-'94 Explorer.
"This was the first four-wheel drive 'truck' that wasn't a truck at all," Reid said. "Soccer moms drove them daily, as did people in all walks-of-life. Owners usually ran them for hundreds of thousands of miles, so very few are left on the market. If a collector can find one, a typical price of about $10,000 is a really good value."