Features
Ram Reveals 702-Horsepower TRX Pickup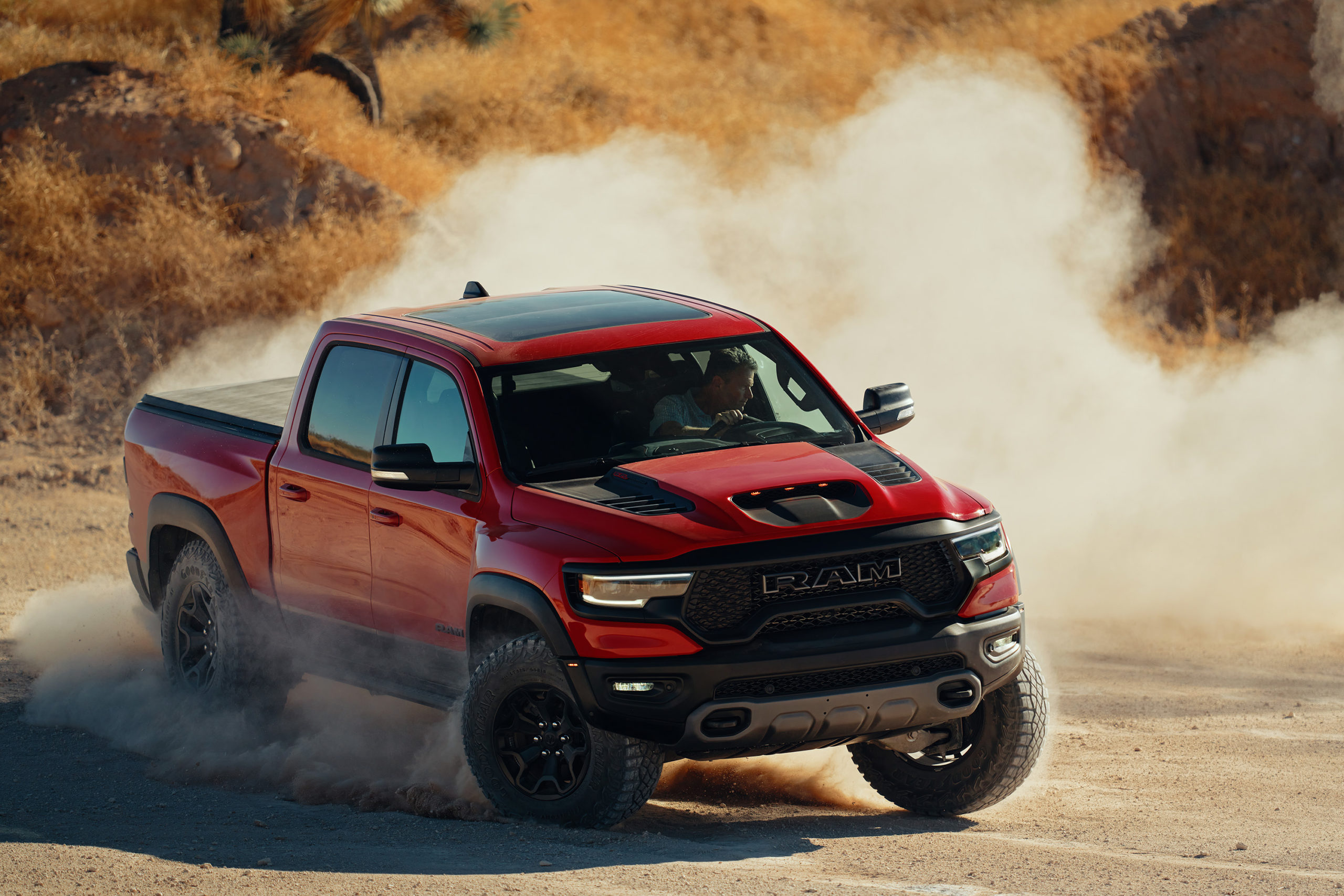 The newly revealed Ram 1500 TRX expands the company's light-duty lineup and sets new benchmarks for power and performance with the 6.2-liter supercharged HEMI V-8 engine under the hood.
"The all-new 2021 Ram TRX sets the benchmark for extreme performance pickup trucks and solidifies Ram Truck's position as the off-road truck leader," said Mike Koval, Head of Ram Brand, FCA – North America. "Ram has a strong history of high-performance trucks and TRX adds to that while expanding the light-duty lineup with the segment's best combination of performance, capability, luxury and technology."
Rated at 702 horsepower and 650 lb.-ft. of torque, the 6.2-liter supercharged HEMI V-8 engine powers the Ram TRX to a top speed of 118 mph. Combined with a high-torque-capacity TorqueFlite eight-speed automatic transmission, the Ram TRX delivers a new level of performance: 0-60 miles per hour (mph) in 4.5 seconds and the quarter mile in 12.9 seconds at 108 mph.
The 2021 Ram TRX also benefits from up to 32 inches of water fording, up to 8,100 pounds towing and a maximum payload capacity of 1,310 pounds.
The all-new 2021 Ram TRX features an aggressive stance and a wider body with an acute "hourglass" body design that features composite flares and fender wells that have been stretched to cover 35-inch Goodyear Wrangler Territory 325/65/R18 All-Terrain tires.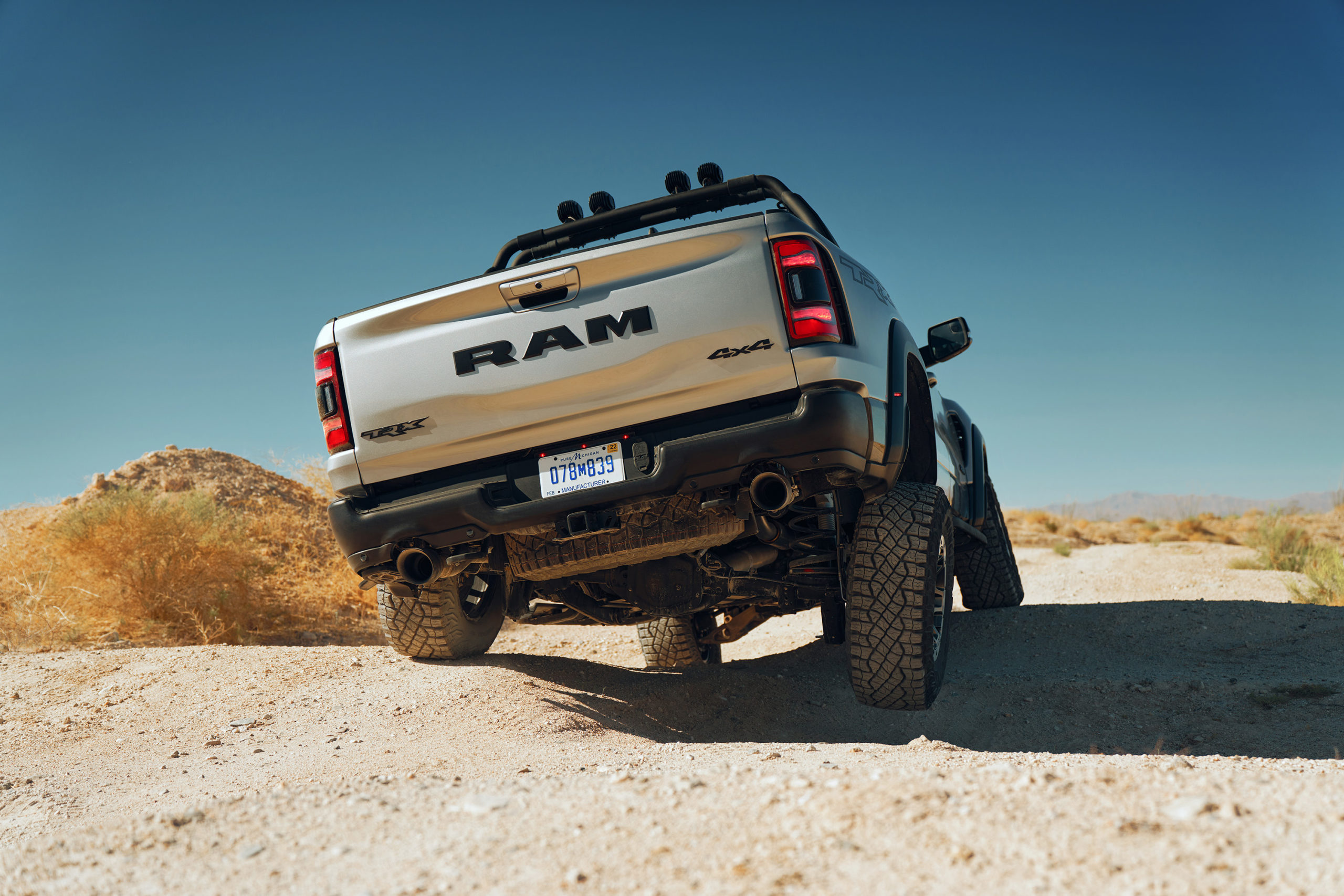 Ram TRX is 8 inches wider when compared to the rest of the Ram 1500 lineup, and the composite flares help to compensate for a 6-inch increase in track width. Normally, Ram 1500 features a wheel that is 8 inches wide, but the TRX design team had to accommodate a wheel that is 9 inches wide.
The front axle was shifted 20 millimeters forward to accommodate the 35-inch Goodyear Territory All-Terrain tires that were designed exclusively for TRX. The 35-inch tires are available with 18-inch beadlock-ready wheels with accent color-matched rings.
LED clearance marker lights flank the front bumper and a new, aluminum hood features bright LED clearance lights that are integrated in the hood scoop.
The hood scoop is responsible for 50 percent of air entering the 6.2-liter supercharged HEMI V-8 engine while the other 50 percent enters through the grille. Design elements, like the functional hood scoop, are complemented by secondary details, such as the functional air curtain just outboard of the headlamps, relieving high pressure zones at the front corners and allowing air to pass through the fenders.
All-black LED headlamps, including twin bi-functional projector headlamps, are standard. A full-length rock rail for added body/sill protection or traditional off-road powder-coated aluminum running boards are optional, as are body-side and hood graphics.
The Ram TRX also features new box outers made of steel and a bed-mounted spare tire carrier is available in addition to the standard full-size spare tire that sits underneath the bed, between the rear axle and trailer hitch. Oversized tow hooks can be found at the front and rear of the truck. The TRX also features integrated 5-inch dual exhaust ports.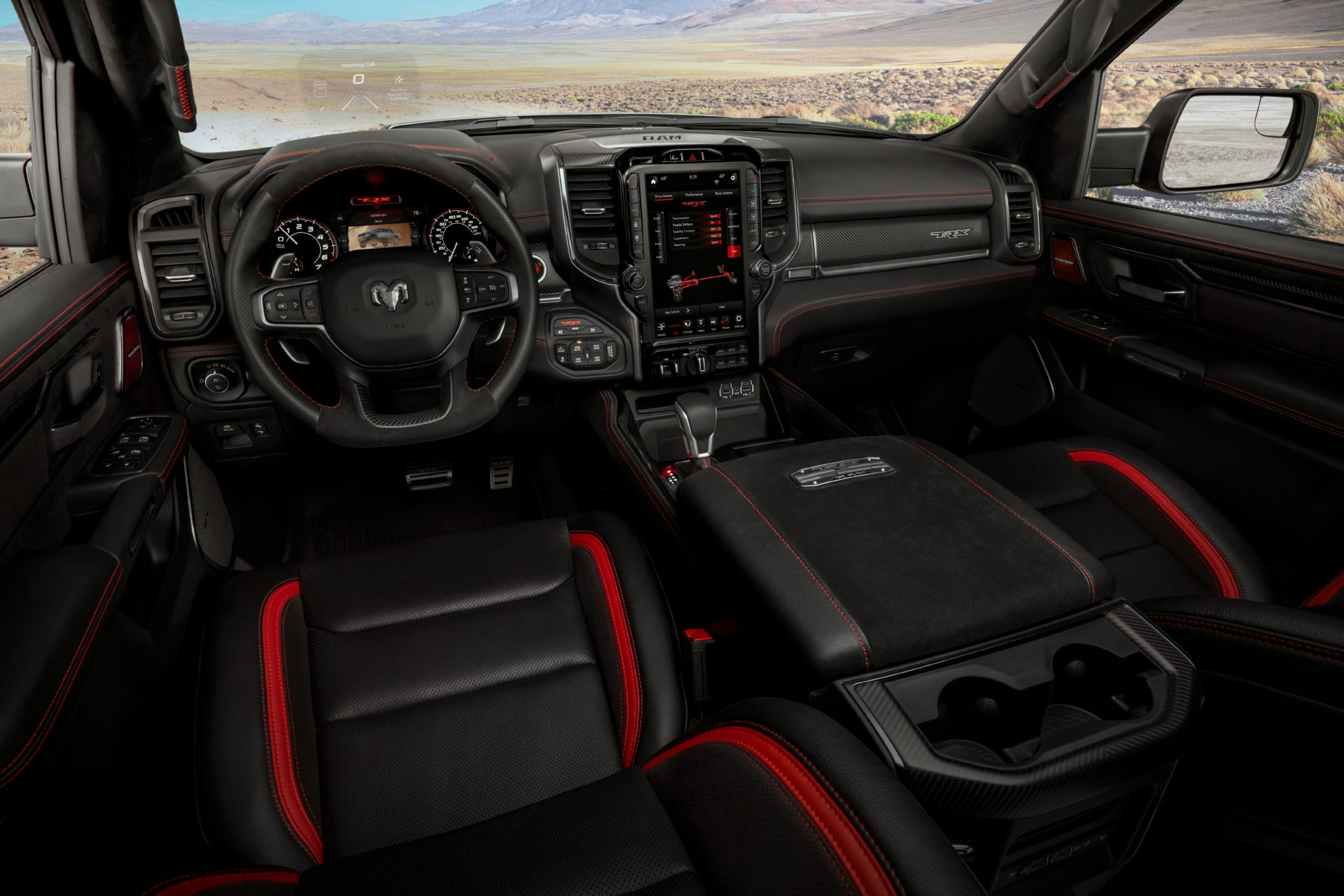 The all-new 2021 Ram TRX features three interior options, including premium cloth and vinyl, premium wrapped leather and suede, or premium wrapped leather and suede with available red and carbon fiber accents. Based on the Rebel layout, trucks outfitted with a TR Equipment Group will greet occupants with premium cloth and vinyl accents featuring black and Dark Ruby Red surfaces. Opting for the TR1 or TR2 Equipment Group provides an interior based on the Ram 1500 Limited and features an all-black color scheme with leather and suede to give TRX a unique feel. Heated and ventilated premium Natura Plus leather with perforated suede accents cover the front bucket and rear bench seats. The TR1 and TR2 Equipment Groups come standard with medium Greystone stitching and Graphite Metallic accents. The TR2 Equipment Group offers TRX red stitching and carbon fiber accents as an available option.
Ram TRX features new front seats with enhanced upper bolster support and embroidered logos. TR1 and TR2 Equipment Groups feature a Modular Lightweight Load-bearing Equipment / Pouch Attachment Ladder System (MOLLE/PALS) on the seatback that enables bags and other equipment to be weaved in place.
A new SRT-signature flat-bottom steering wheel, with enhanced hand grips wrapped in leather with optional suede and carbon fiber accents, enables performance driving. New aluminum paddle shifters stretch above and below the steering wheel spokes, allowing the driver to choose the proper gear with their fingertips. A console mounted performance floor shifter, which includes a cast metal main grip wrapped with semi-perforated leather. Both the console and paddle shifters mark the debut of each in a Ram truck.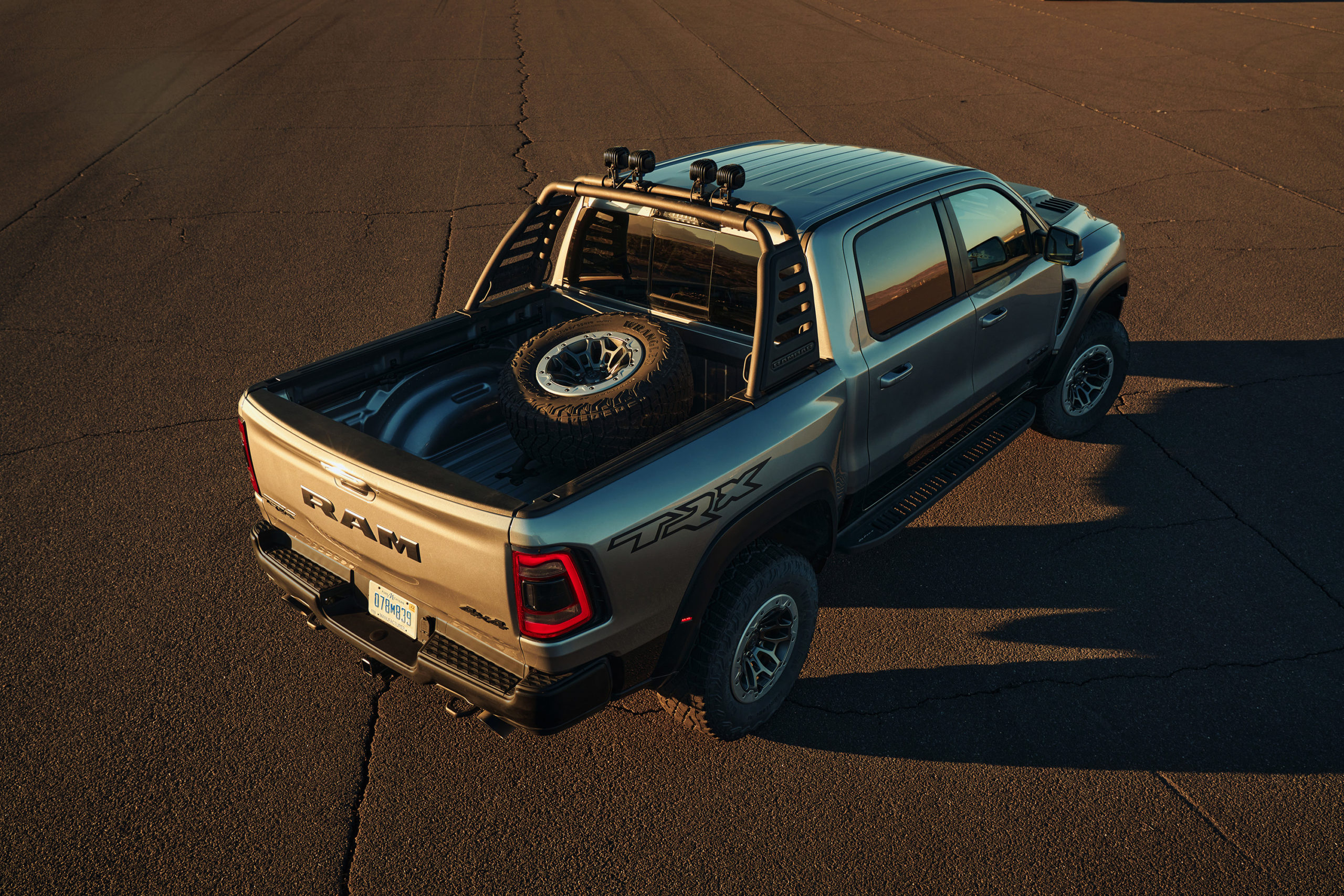 The Ram TRX boasts a ground clearance of 11.8 inches along with 35-inch tires. To protect critical components, including the front axle, transfer case, transmission pan and fuel tank, TRX employs five skid plates. A separate skid plate sits at the bottom of the front fascia, mitigating potential damage, and doubles as a belly pan. Heavy-duty gauge steel rock sliders are an available option.
An all-new independent front suspension system with active damping uses high-strength aluminum to maintain overall strength and durability and includes new front upper and lower control arms made of forged aluminum. The all-new rear suspension system has an active damping and an exclusive five-link coil system. The TRX is also equipped with new 2.5-inch Bilstein Black Hawk e2 adaptive performance shocks. A new rear axle center section provides balanced performance and a locking differential for increased off-road performance.
The Ram TRX is equipped with a new BorgWarner 48-13 full-time active transfer case which features upgraded internals for improved strength and durability. Ram TRX features a low range of 2.64:1 for rock crawling and can be flat-towed while in neutral.
The Ram TRX relies on a four-wheel disc brake system and a hydraulic compensation unit to enhance brake pedal feel and performance during emergency maneuvers. Up front are two-piston monoblock calipers clamping down on 15-inch inverted hat (outboard venting) rotors for improved cooling. The rear uses single piston calipers with 15-inch rotors to provide stopping power.